Costco: Kidkraft Hometown Heroes Wooden Play Set Was $110 | Now $90 & Free Shipping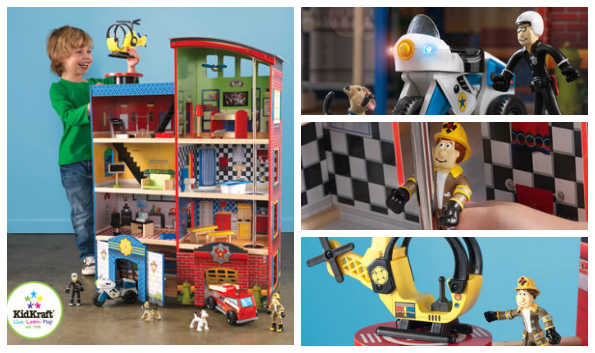 If you are looking for a great playset for your little one, then look no further than the Kidkraft - Hometown Heroes Wooden Play Set. Made of wood, this durable play set will keep imaginations alive and let your children play hometown heroes. Originally $109.99, the set is now on sale for $89.99 with free shipping from Costco Canada.
I could not really find this set elsewhere in Canada, but Amazon.com has the set priced around $130 USD so I knew this had to be a good deal. As the set is made entirely of wood, you know this will be a very high quality set that will outlast your child's interest in it.
This huge set is over 3" tall and has four floors with eight rooms of open space. There are fun pieces like the firefighter's pole, staircase, and a garage with opening doors. This 'doll house' is built with wide windows so kids can look in from different perspectives.
With the set, your child will enjoy playing with the three rescue vehicles: a fire truck, a motorcycle, and a helicopter. The helicopter has its own landing pad at the top. There is also a firefighter, a police officer, and two dogs that your children can bend and pose.
I am pretty sure if it comes with all the furniture shown inside, as any other sets I looked (in the USA) at did come with around 25-pieces (including vehicles and figures) on top of the house itself. As they are pictured with the set, it makes sense that they would be included. I also read one of the reviews that said:
As a parent of a 5 year old girl and a 3 year old boy, I find it difficult to find unique toys for boys, but very easy to find fun things for my girl. So I was really excited to see a dollhouse geared toward boys. It arrived very well packaged with easy to follow instructions. Took my husband and I just under 1.5 hrs to put together. The furniture and figurines that come with are pretty cool....a police motorcycle and firetruck with lights and sirens.
This is a great little set to hold the interest of boys and girls alike. The large house facilitates interactive play between children as they can be on different sides of the house and in different rooms while playing together. There is plenty of space for several kids to play at once so this would make a great Christmas gift.
(Expiry: 29th November 2015)