Costco Canada: Eneloop Charger & Batteries Only $40 ($10 Off) & Free Shipping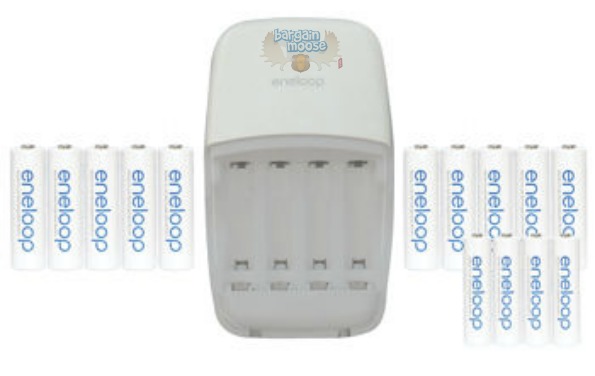 I recently blogged about Eneloop batteries and found out just how popular these batteries are. Everyone loves them! So, I found another Eneloop deal for you, this time from Costco. Get the Sanyo Eneloop 1500 overnight charger kit, which comes with 10 AA batteries and four AAA batteries (along with the charger) for only $39.99, with a regular price of $49.99 and shipping is included.
Why are these batteries so great?
These Eneloops are the newest in battery technology and retain power longer than regular rechargeable batteries, along with lasting longer over the years. Ironic as it is, these batteries are even environmentally friendly, as they come solar charged right out of the pack. You can recharge these batteries 1500 times and they reduce the waste of throwing away many other regular batteries. They are definitely worth their cost. As compared to other rechargeable batteries that lose 1% of their energy per day when not used, Eneloops keep 85% of their charge over one year. These batteries are also recyclable.
The charger can be used for these batteries or for other rechargeable batteries and it has a built-in foldaway plug.
Price Comparison
While I didn't see this exact set for sale, the price I'm finding for the charger and only 4 AA batteries is $29.99. This means for an extra $10 you are getting another six AA batteries plus four AAA batteries. I'm sure they could be put to good use.
Shipping
Costco ships everything for free, although I do think the cost is absorbed in the price of your product, as the warehouse can sometimes be cheaper. Even still, with the free shipping, the prices are usually cheaper than elsewhere, as they are for this set.
I think I'm going to pick up this set, as we have a lot of devices that use batteries, like kid's toys, controllers and cameras.
(Expiry: 22nd June 2014)