Costco Canada: $80 Off Blendtec Blenders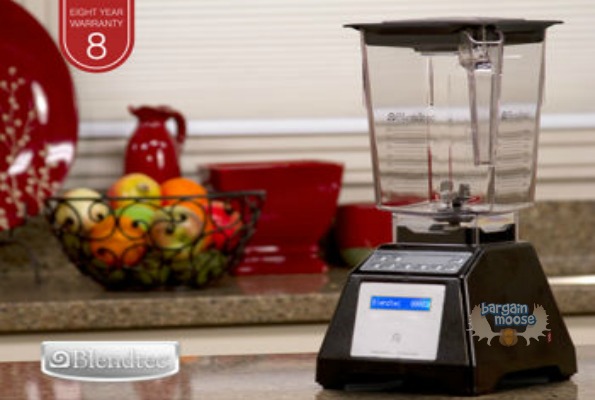 The Blendtec blender is only $359.99 right now at Costco Canada, regularly $439.99.
If you are thinking about purchasing a blender, this is the blender to purchase. I have mulled over buying one of these for about a year now. My neighbour recently bought one and absolutely loves it. This is not just a blender, it can make virtually anything in less than 90 seconds.
With a motor that turns the blade at speeds of up to 335 M.P.H., this baby is powerful. It says that you can replace 12 other small appliances with just this one blender. You can make the obvious smoothies with the Blendtec, but you can also make hot soup or cold ice cream! The Blendtec can turn ice into snow for your margarita or sno-cone needs. It also mixes bread dough, dressings, salsas and quite a bit more.
With two jars, one large capacity and one medium capacity, this blender is restaurant quality, and has been used in commercial settings for years. Why do you need commercial quality at home? Because this amazingly easy machine gets your food to the right texture so your recipes turn out just as great as the chefs make them. The package also includes vented lids, a comprehensive (I've read it) recipe book, an owner's manual and a quick-start DVD in case you hate reading instruction manuals as much as I do. It also comes with an eight-year manufacturer's warranty, which to me, is unheard of. Usually the guarantee is for only a year, so the price is right here knowing that your blender is going to last, guaranteed.
The reviews are amazing on the Blendtec, with it being compared to the Vitamix (the blender of all blenders) and that it is even better. Hint to my husband: Great Valentine's gift for me.
Shipping is included.
(Expiry: 17th February 2013)