Costco Canada: $35 Off Garmin Nuvi GPS - Now $145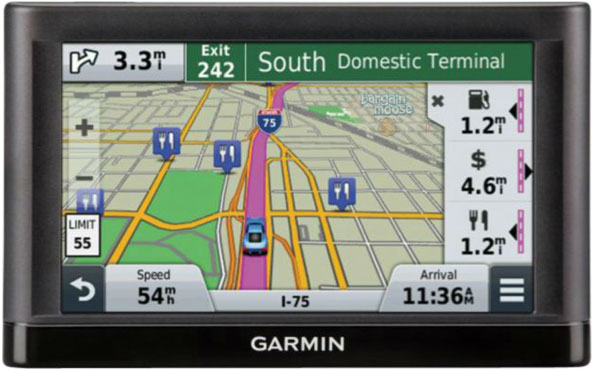 Need a GPS? The Garmin Nuvi 56LMT $35 off at Costco right now. Instead of its usual price of $179.99, you can get it for just $144.99 (+ $2.75 eco fee). Shipping is also free.
Do you get lost a lot? A friend of mine does all the time and for whenever she finally gets her license, I will more than likely get her a GPS and certainly a Garmin one, which is an extremely well-known brand for its accuracy and performance.
Personally, I always use my iPhone as a GPS but given that the use of a cell phone is actually illegal in my province, I would much rather be using an actual GPS device. I'm sure a couple of you Moosers may have a special stand for your phones, which is great, but I'm not a fan of it leaching my data, especially when I don't have a lot of data to begin with on a monthly basis!
This GPS boasts a 5" screen, a 480 x 272 resolution and comes pre-loaded with maps for both Canada and the U.S. It also has a battery life of up to two hours, along with a speed limit indicator, a lane assist and most importantly, lifetime map updates, which means that you won't have to worry about shelling out more money for these.
In terms of a price comparison, the Garmin Nuvi 56LMT GPS is currently being sold for $199.99 at Staples. I also found it for $140 at Amazon.com but unfortunately, it does ship to Canada.
Speaking of which, although there are no reviews for this GPS on either Costco's or Staples' sites, on Amazon.com, there are 155 reviews with a total of 4/5 stars -- that's pretty awesome if you ask me! Here's one such review:
One of the most intuitive GPS I've ever used. Accurate positioning. Highly responsive processor for upcoming turns. Voice directions clear and unrobotic. Free lifetime map updates so you don't get constantly gouged by Garmin. Highly functional trip computer. Appreciated position coordinates and terrain elevation.
And here's something worth noting:
On the negative side the manual that comes with it is pretty useless. You really have to go to the Garmin site and download the manual. That one is fairly good, but I have still had to figure out several things by trial and error. For example it doesn't explain how turning on and off power works very well. But it turns out that if it is powered from an outlet that turns off with the ignition, it turns on and off with the ignition, so you never have to touch the power button if it is just used in the car.
(Expiry: 1st March 2015)