ComputerValley: Logitech MK120 Keyboard & Mouse $17 & Free Shipping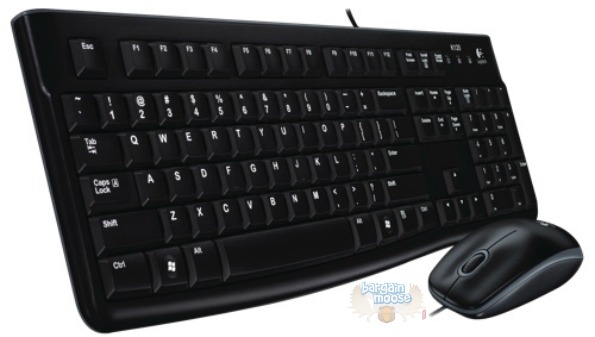 If you need both a mouse and keyboard, look no further than the Logitech MK120 mouse and keyboard combination. Originally $20.99, the set is now on sale for $16.99 with free shipping.
I found the Logitech MK120 Keyboard and Mouse at the following retailers for:
$18.99 @ Dell Canada
$19.99 + $7.99 @ Newegg.ca
$24.99 + shipping @ TigerDirect.ca
$24.99 + FS on $49 @ Logitech
$19.99 + shipping @ Future Shop (OOS)
While Dell looks promising, Computer Valley Canada has the best price by several dollars and offers free ground shipping on the wired keyboard and mouse combination. The keyboard is also spill resistant and comes with sturdy tilt legs and durable keys. I do find that no matter how tough keys are made, I always seem to wear through one. Currently, I have worn through the E on my laptop keyboard and the M is looking a little sketchy.
As to be expected, the set is fairly basic. You basicly need to plug it in and it is good to go. The mouse is just your average high-definition mouse with a scroll-wheel in the middle. From the look of it, it should feel all right for both right and left handed people as it appears to have a fairly balanced design.
The full-size keyboard with full-size F-keys and number pad will help you type faster and longer with comfort. The keys are low profile and whisper-quiet so you do not drive yourself or your roommate to drink with that annoying 'clack clack'. The standard layout will also be familiar to you. One review on Future Shop said:
Some people may think that with the low price it could be garbage, but it's not. Very nice feel to both the keyboard and mouse, they are plug and play, just have to wait the 20 seconds for windows to install the drivers for them and it's all good to go. I'll definitely recommend this set to anyone that is looking for a keyboard and mouse just because the quality is there and the price is right.
The keyboard and mouse are still factory sealed. While they do not say how many are available, they are over 10 units. Overall, 20% off a keyboard does not seem like much but when you think of getting both a keyboard and a mouse for only $17 with free shipping, I do think this is a great offer.
(Expiry: 25th January 2015)