Buffalo Jeans Canada: 71% Off Men's Checkered Shirt - Now $20 (+ No Minimum Free Shipping With Promo Code!)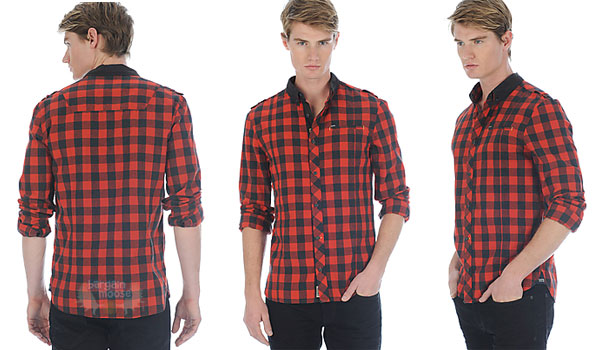 Browsing around Buffalo Jeans' sale section, I spotted a fabulous deal on the men's Sagax checkered shirt. Originally priced at $69, it's now 71% off and is down to just $19.99. It's also only available in either a medium or large size. Plus, enter the Buffalo Jeans promo code APRILFS at checkout to get absolutely free shipping on any order with no required minimum.
Ever since last year's Christmas, my hubby has been absolutely obsessed with long-sleeved checkered shirts. Finding ones that fit well has been rather challenging though because he likes them to have a slim fit and long sleeves because he's tall but I'm sure that he would love this checkered shirt from Buffalo Jeans.
It's 100% cotton and features contrast trimming for a more popping look. The colour is labelled as "irah combo". I have no idea what this actually means but judging by the picture, this shirt appears to be either black and red or dark grey and red.
In the men's section, the Buffalo tank top is also worth checking out. Now down to $12.99 from a regular retail price of $25, it comes in either grey, black or arvin (blue) and is 95% cotton with 5% elastane. It's sleeveless and would be great to wear as an undershirt, perhaps even to the checkered shirt above. I'm actually very tempted to get this tank top for my hubby to wear under his many checkered shirts as the one he wears is too noticeable under his clothing. This Buffalo one, however, is great because it has a comfortable tight fit that doesn't look like it would be very noticeable.
The discounts aren't nearly as poppin' in the women's sale section but I did find the fuzzy scarf on sale for $18.99 (reg. $24). There's no mention as to the material of this scarf but by its name, I can only assume that it's soft and fuzzy! It comes in a ruby colour. Other than that, there are a couple of t-shirts on sale for $23.99 (reg. $29) like the Audrinne Paris t-shirt, which features a picture of the Eiffel tower and the caption: "Paris is always a good idea".
From past experience, I can tell you that shipping is also very quick.
(Expiry: Unknown)