Book Depository: 20% off Select Titles & Free Shipping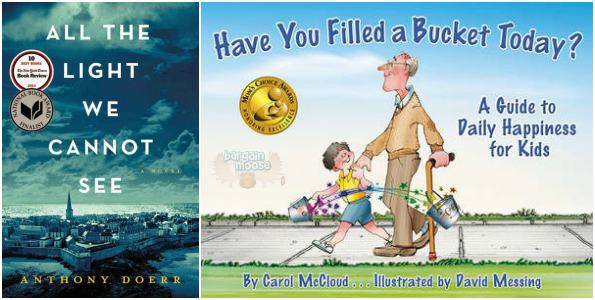 Book Depository is one of those hidden gems of the book world. Usually, if you need a book you would look to Amazon or Chapters Indigo. However, Book Depository offers free shipping with no minimum. They also are currently offering an extra 20% off select book titles.
If buying any books from this sale, I always suggest price comparing. For all the books I price compared, the prices here were cheaper than at Amazon Canada or Chapters Indigo Canada.
Children
The Day the Crayons Quit  is a New York Times bestselling children's book. What happens when the crayons go on strike? Blue is tired of colouring in water and pink would really like to be used some time! The book originally cost $12.76 but is now on sale for $10.13. The book is $13.72 @ Amazon and $13.72 with Plum Rewards @ Chapters Indigo.
Have You Filled a Bucket Today? is a guide to daily happiness for children. This adorable book shows kids, via a bucket, how positive actions fill both their bucket and the buckets of other people. This is a lovely book for younger kids learning the benefits of love, helping, and kindness. Originally $12.76, the book is on sale for $10.13. The same book (paperback) costs $11.68 @ Amazon Canada and $11.68 with plum Rewards @ Chapters Canada.
Adult
Some books are substantially cheaper than the books available in Canada. More Fool Me by Stephen Fry is on sale from $16.40 down to $13.05. While the cover is different from the versions on Chapters and Amazon (OOS), the book is the same: all 400 pages of it. Chapters Canada sells the same book for $21.91 after Plum reward. I am not a big fan of Stephen Fry's acting, but his blog is a masterpiece of whit and wonder. The gentleman is a fantastic advocate for free speech!
All the Light We Cannot See is a critically acclaimed novel that was just released! In fact, there is one-day left to go on the pre-order at Book Depository. I expect this will be one of the most popular novels of this year. If you have never heard of it, the book is "about a blind French girl and a German boy whose paths collide in occupied France as both try to survive the devastation of World War II." Originally $16.40, the book is on sale for $13.05 in paperback. The same paperback book costs $14.19 @ Amazon and $14.19 with Plum Rewards @ Chapters Indigo.
(Expiry: 24th April 2015)