Bogs Classic Floral Kids' Boots: Were $90 | Now $40 & Free Shipping @ Browns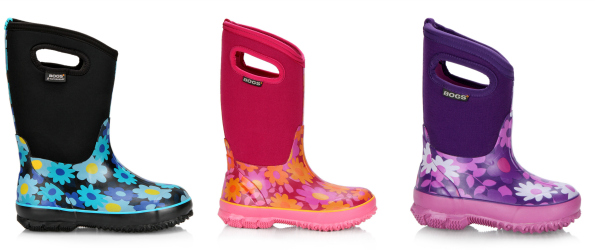 Attention: Bogs sale! I ran across these Bogs classic Floral Boots for kids on sale at Browns Canada. Bogs are super popular for adults and kids, so I could not wait to share them with you. Originally $90, these Bogs are on sale for $39.98. Use coupon code GETTHEM15 to get free shipping - that is worth an extra $5.
These are the Bogs Classic Floral Rain Boots with the neoprene upper and the rubber lower. The rubber is printed with a nice floral design and the boots feature an aggressive tread to give your little one traction. Bogs are well-loved because of their unique design: the handles on either side of the upper boot, which make it easy to get in and out of your boots. Mooser Linda let me know that "these aren't the rain boots they are the snow boots! -30C temps! Even a better deal."
Surprisingly, you still have a great selection available right now. There are three colours to choose from: black, purple, and pink. There is a good variety of sizes right now so you should be able to find one or two colours in your children's sizes. Sizes 1 through 6 and size 13 are all currently in stock.
While I could not find these exact boots elsewhere as there are so many pattern variations, I did find the Floral Dot version on sale from $95 down to $75.99. The only difference is the neoprene: at Browns the neoprene is one colour whereas the dot version has polka dots on the neoprene. The printed floral rubber is the same. In fact, the absolute cheapest kids' boots with the neoprene upper are $85 regular price.
These are the best snow and rain boots a kid can get. While I am a fan of Hunter, it can be a real pain to get out of their rain boots. I had to sit on the floor and brace myself while extracting my foot from my second boot. For kids, it can be hard too. That is why Bogs are so great: two handles make sure your child can get a good grip when putting on and removing their boots. The neoprene upper also has a lot of give and it is super comfortable and warm.
With this deal you save $50 and get free shipping - what a steal!
(Expiry: Unknown)