BestBuy Canada: Bose Soundlink Mini Speaker Was $220 | Now $200 & Free Mini Speaker ($10 Value)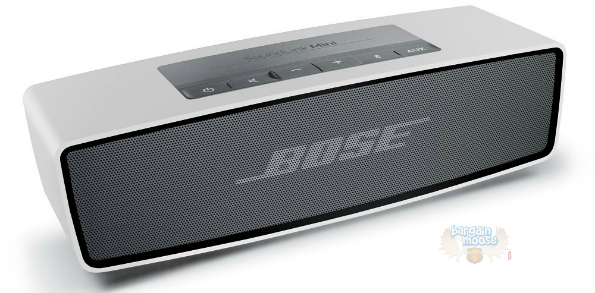 The only speaker in the world that I want is the Bose SoundLink Mini Bluetooth Speaker. Bose rarely ever goes on sale (like never), so I am pleased to bring you this deal on the Bose SoundLink. Originally $219.99, the speaker is now on sale for $199.99. You will also receive a free Philips Universal Portable Speaker, valued at $9.99, with your purchase.
Now, this speaker is on sale for the same price at a few other retailers - like Amazon and Bose. While the prices match, Best Buy's deal is better because of the bonus speaker you receive - an extra $10 value. You need to follow these exact steps to receive your free speaker.
You need to add the freebie speaker before you add the big boy to your cart. At checkout, you will notice that they process the discount oddly. Instead of simply having the freebie speaker show as free, they take the cost of that speaker off the cost of the Bose SoundLink Mini. Your cart will look like this: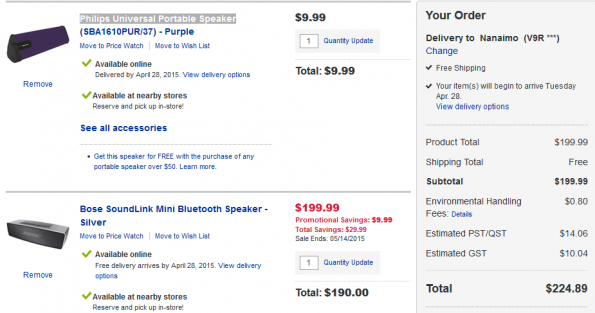 As you can see, the price of the Bose SoundLink drops to $190 instead of the price of the Philips speaker being dropped.
The free speaker is available in black or purple as blue has already sold out. Of course, the Bose Speaker is legendary. The speaker rates 4.8/5 stars with over 100 ratings. One reviewer said:
This is simply the best Bluetooth speaker in this price range. Quality sound, user friendly. When you purchase Bose you know your getting quality. Don't even bother the competition, buy the Bose and enjoy!
I wanted this speaker badly, but I ended up with the Sony SRS-X5 as the price was more affordable. I still dream of owning the Bose SoundLink Mini. The next time I buy a wireless speaker, I will save up and purchase it. I have heard this speaker fill an entire classroom with large, loud, rich sound. The day I heard my classmate's Bose Soundlink Mini is the day I knew I would buy one for myself.
The mini Philips speaker is a nice little bonus that you might want to give away as a gift once you hear the Bose's sound. Receive free shipping as your order is over $25.
(Expiry: 14th May 2015)