BEST-LOCK 1166-Piece Building Set $19.99 & Free Shipping @ Sears *HOT*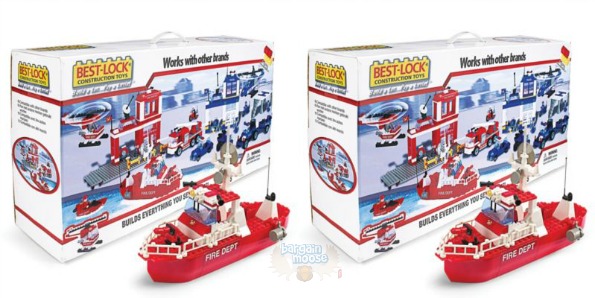 If you are looking for discount building blocks, look no further than this huge BEST-LOCK 1166-Piece Building Set. Originally $49.99, the set is now on sale for $29.99. After you apply coupon code 941612824 for $10 off $25, the set comes down to $19.99. Sears Canada is also offering free shipping on all toy orders right now, saving you an extra $7.95.
BEST-LOCK blocks are compatible with many other brands of blocks so you can combine them with any current sets you have. This set includes 1166-pieces in total with 11 mini figures. You can build a fire truck, fire station, helicopter, rescue ship, speed boat, police station, truck, car and more with the included instructions. I think the rescue ship looks very interesting and it is quite nostalgic for me. The only building set my parents ever bought me was a ship with a couple sharks - it was awesome.
I tried price comparing this building set but could not find it anywhere else. I did find another BEST-LOCK building set of 1000 pieces for $59.99 at Canadian Tire. At only one-third the price with an extra 166 pieces and free shipping - this deal is hot.
Now, there is only one review of this building set and it is negative. The reviewer says that about 2% of the blocks come either defective or are missing (so 98% are fine). It is important to read reviews, but I am curious why a toy would only have one review if it were such a bad toy. You would think anyone who was shorted a few blocks or found warped blocks in his or her set would want to complain. It makes me think that the reviewer got a defective set rather than this being the norm. If it were the norm, I would expect a lot more complaints!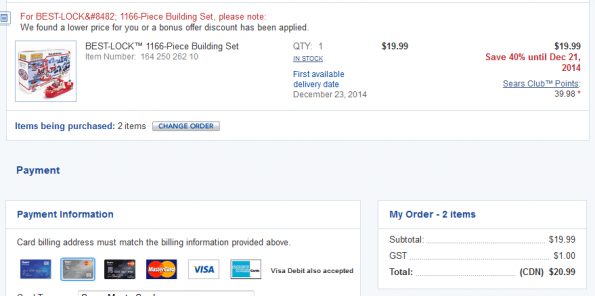 As you can see from my cart, you only have to pay tax on top of the set. It is also showing me a delivery date of December 23rd (for Alberta), so this set could arrive in time for Christmas if you order today.
This is a nice building toy set for those on a tight budget who want to give their child a really big and impressive gift this year. Not everyone can afford brand name or the newest and the best, so this is another reason I love this deal.
I have no idea when this combination of deals will expire, as I do not know when the coupon code ends.
(Expiry: Unknown)