Best Buy Canada: PNY USB 3.0 Flash Drive Was $80 | Now $40 & Free Shipping *HOT* (EXPIRED)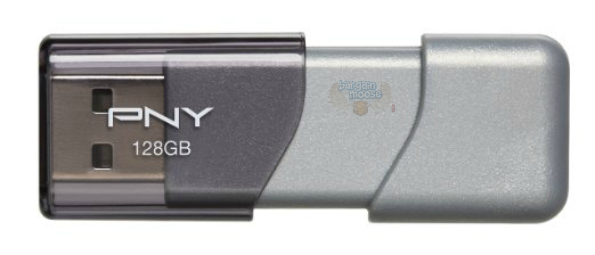 I have never seen a 128GB USB 3.0 flash drive for such a low price! Head over to best Buy Canada to purchase the PNY 128GB USB 3.0 Turbo Flash Drive that was $79.99, and is now only $39.99. As this price is over Best Buy Canada's free shipping threshold, it will show up at your door free of charge.
This flash drive gives you huge speed and massive space in one small little stick. As this is a turbo drive, it has read speeds of up to 190MB/s and write speeds of up to 130MB/s! This is faster than your standard USB 3.0 flash drive which usually tops out at a read speed of 100MB/s.
The flash drive is compatible with PC and Mac computers and is also backwards compatible with USB 2.0 ports. Rather than a retractable head or a cap that you can lose, this design has a sliding-collar. Thus, it stays all in one piece and yet will not randomly retract in when you are trying to insert it into the USB slot.
I did not actually find this deal. I was searching for USB drives for a friend of mine who just acquired himself a new computer with a decadent 3.0 port to fill. He wanted a new flash drive, thus we were throwing links back and forth. He sent this one to me to ask what I thought... and I immediately recommended he purchase it as it is 3.0, 128GB, and the best price I have ever seen for that combination. I price compared with a few other stores just to make sure:
$77.99 + shipping @ Tiger Direct Canada
$71.61 @ Amazon Canada
$79.99 @ Dell Canada
The reviews on this flash drive re, overall, positive. The flash drive rates at 3.9/5 with over 30 reviews. The main problem people point out is speed. Many people are able to get the 'up to' read and write speeds but others report having much slower flash drives. consistency of product appears to be an issue for PNY. One gentleman commented on the speeds he was getting:
Overall for the [money] paid it is worth it. Running 'portableapps' without issue. Recognized on computer immediately, no dropped connection issues. Speed is lower than advertised, but for the price and real life usage this was expected. I am averaging consistent WRITE speeds of 50 mb/s on large file transfers and 20-30 mb/s on more complex folder transfers containing thousands of small files. Some files show burst write speeds up to 130 mb/s. Would recommend and buy again.
For the price, I think this is a great deal. If you do receive a lemon hard drive, then you can always tale a screen shot of the speed and return it to Best Buy within a reasonable amount of time.
(Expiry: 2nd July 2015)