Best Buy Canada: JBL Micro II Portable Speaker Was $45 | Now $27 & Free Shipping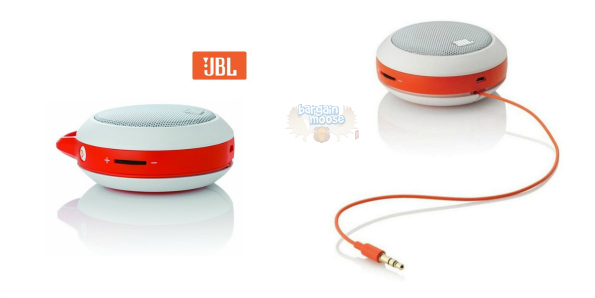 Best Buy Canada has discounted the popular award-winning JBL Micro II Portable Speaker from $44.99 down to $26.99. As this speaker is over best Buy Canada's free shipping minimum of $25, it will ship for free.
I love my tech and I know my specs but i also care about that cosmetic little nuance known as colour. The JBL Micro II Portable Speaker comes in three colour combinations:
The black is out of stock online but can still be reserved for in store pick up if you have your heart set on that colour. Personally, I am a big fan of the orange. The 'colour' is a bit of a misnomer because the actual speaker face is white-ish with just a band of orange around the body connecting to the orange handle.
I price compared these cute little units. Amazon Canada sells all three colours for $44.99 each. Shop.ca only has the black in stock at $44.99 as well.
I mentioned this was an award winning speaker, which is true. This JBL Micro II won the Reddot Design award. This speaker is the first ultra-portable speaker with a built-in bass port. It is small enough to slip into bigger pockets, clip on your belt, or carry in your handbag or backpack. While not Bluetooth, it easily connects to any MP3 player or smart phone with a built-in audio cable. No need to purchase that separately.
The speaker has a built-in rechargeable lithium-ion battery that lasts approximately five hours. The beauty of these speakers is really only discovered when you own more than one. You can daisy-chain the JBL Micro II speakers together for an incredible experience.
One reviewer said:
I bought this speaker just to listen to music by the bonfire and wasn't expecting much because of the size and price. JBL has impressed me again. i'm shocked at how well it works. It is louder and clearer than the ipod docking unit I have. Excellent purchase and I would recommend it to anyone looking for something to work with or walk with.
The reviews are actually raving on this product. I have rarely seen such a high average - 4.8/5 with 22 reviews (black) - on a speaker before. Everyone LOVES this little speaker and considers it one of the best deals they have scored.
(Expiry: 2nd July 2015)