Apple Canada: Refurbished iPod Touch 32GB Only $179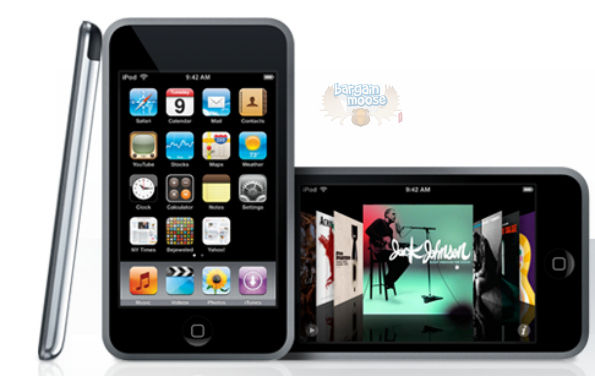 Apple Canada has several refurbished 32GB iPod Touch (4th gen) MP3 players on sale from $229 down to $179 with free shipping. 
It kills me to be posting this deal without purchasing one of these devices. This is one of the last times you are going to see an Apple 32GB MP3 player for this price. Apple Canada recently increased the price on all their MP3 players including the Nano (which only comes in a 16GB model) and the iPod touch. They discontinued the large iPod Classic, which now costs a small fortune via resellers.
This is the 4th generation touch, whereas we are now on to the 5th generation models. However, it is really worth buying this refurbished 4th generation model when you compare prices. The new 5th generation 32GB iPod Touch retails for $299.99, which places this mode at $120 below the new retail price.
You also will not be missing much. The 4th generation has almost all the features of the 5th generation. Enjoy music, movies, TV shows, videos, games, and more at the touch of a button. The device supports HD video recording and editing via the built-in rear and front facing cameras. Facetime with your friends, take selfies, and more.
All refurbished iPod Touch MP3 players come with the same warranty as a brand new unit. They have a new battery and outer shell (no scratch marks). In top of that, they come with all the manuals expected, a new set of Apple earbuds, and a brand new box. I have purchased refurbished from Apple Canada before and have always been extremely pleased with my product.
Choose from a black or a white iPod Touch. I want the white unit myself, and I am dying to buy this deal. My iPhone only holds 16GB of data and it is already maxed out. It hit the point where I had to start deleting photos so I could take another photo! My entire music collection cannot even fit on my phone. As the Nano has the same space, it is not worth purchasing. However, a 32GB iPod Touch would give me all the room I need for my entire music collection.
Due to the price being $120 cheaper than a new 32GB iPod Touch, I expect these refurbished units to sell out quickly.
(Expiry: Unknown)