Amazon Canada: Half Off a 72-Piece Rockwell Deluxe SoniCrafter Multi-Powertool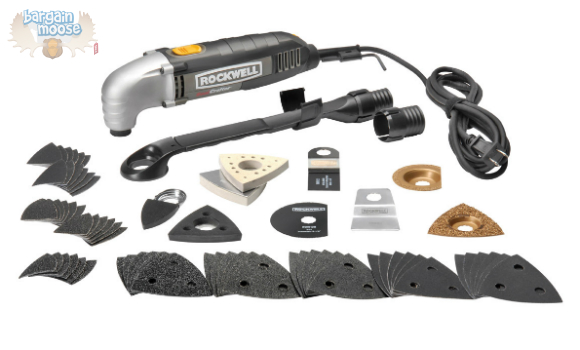 Be prepared for all your grinding, sanding, cutting and polishing needs with the Rockwell SoniCrafter from Amazon Canada. Oh, and while you're at it, save 49%. The regular price was $179.99 and it is now on sale for just $92.57 and free shipping.
I call this a Multi-Powertool because it isn't really a specific item. It's like a beefed up Dremel (which are also on sale for 10% or more off at Amazon.ca). There are, like I said in the intro, attachments to do tons of things. I think one of the neatest attachments is the end cut blade (which is available for 66% off at Amazon Canada) because it solves what seems to me, a very non constructiony type of guy, to be an annoying problem. The problem is that you cant just start cutting out of the middle of a sheet of something. Like if you need a hole in the middle of a piece of plywood, you can't just stick the saw on the middle of the piece of plywood and start cutting. You need to drill a hole that you then put the saw in and start cutting from. There are other ways to do this, I know, but this is just one way. This tool, using this attachment, let's you cut through stuff without drilling that first hole.
Any construction workers or people who are handy with tools, you aren't allowed to comment on this article. I don't want you pointing out how construction-dumb I am to the rest of the class.
This kit comes with a lot of stuff. From the Amazon Canada Website:
Variable Speed Sonicrafter tool
2 cutting blades
1 carbide grit blade
1 broad spectrum scraping blade
1 triangular carbide rasp
2 polishing pads
1 finger sanding pad
30 finger sanding sheets
1 triangular sanding pad
30 triangular sanding sheets
1 hex key
1 dust extraction adapter
Carry bag
(Expires: 4th March 2013)