Amazon Canada: Anker 13000mAh Portable Battery Only $32 & Free Shipping (EXPIRED)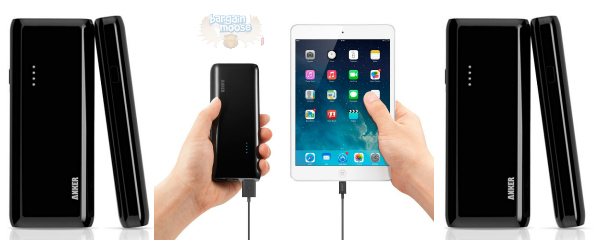 Hold on to your hats my darlings because the beloved Anker 13000mAh Portable Battery has dropped in price from $35.99 down to $31.99. I am not sure if this is the new price or just a sale price, but it is a great price!
I rave about this battery all the time. There are two of these batteries in my household: one previous edition model and one latest edition model. The first gift I tend to give my friends is one of these external batteries, especially after hearing things like "my cell phone is about to die" or "I am down to 10% so I will have to stop texting you now." Seriously, get yourself a portable battery and forget about the limitations of your current battery.
I am not the only one who loves this battery. Fellow blogger Margarita says:
Back around Christmastime, Avigayil recommended the Anker battery to me when I asked her for advice on a good portable battery to get my hubby as a gift. I had never used one before and had zero knowledge on these nifty things but since getting it for him, I have bought one for myself and even a friend! Both hubby and I have an iPhone and it's super handy to be able to recharge our phones on the go instead of being stuck waiting for them to hit 100% when plugged into the wall. Plus, when you look at the price and power ratio of the Anker portable battery in comparison to others, there is no other like it!
This external battery is fully loaded. With 13000mAh power stored up, you can recharge your cell phone multiple times and a tablet at least once. There are two USB connections and the standard four indicator lights to let you know when you need to recharge your battery. The Anker battery comes with one cable, which you can use both to charge the power bank and to connect your Android device to the battery for charging.
As a bonus feature, the power bank has a light than is triggered by pressing down and holding the side button. This light is handy if you are trying to plug in your phones at night as the light is on the side of the ports. Hold down the same button to turn the light off again.
This battery has a very slim profile and it comes with a small mesh travel bag so you can keep the cord and the battery together. The only negative i can think of is the lack of passive charging. That means, you cannot charge your phone on this battery while this batter is being charged. No matter, because this battery is wicked.
Receive free shipping on your battery. Also, these batteries appear to be tax-free or have the tax built into the cost.
(Expiry: unknown)