73% Off Lululemon Peplum Pullover Was $108 | Now $29 & Free Shipping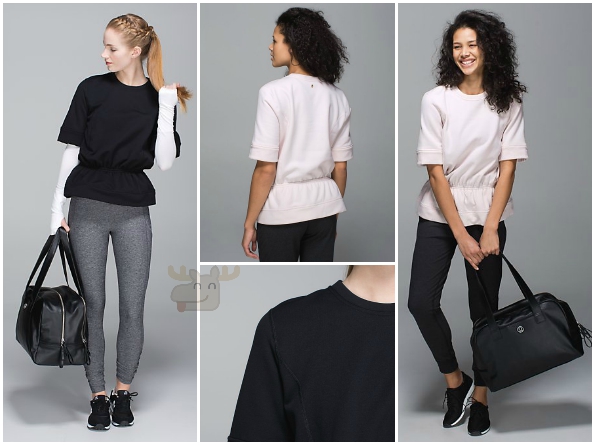 We love Lululemon deals here at Bargainmoose and I have a great one for you today! Lululemon Canada has discounted the Peplum Pullover from $108 down to just $29 with free shipping. That is just over 73% off the original price for this top.
It is so rare to see such a steep discount on a Lululemon product. This cool down pullover is designed to be a post-workout layer that keeps you warm and comfortable. The pullover is made of fleecy fabric that wicks sweat and an elastic hem that nips in at your waist.
The waist on this top is fairly low, so girls with high natural waists may find that the top rides up a bit. In my opinion, this top would fit someone with a longer torso as the waist hits more like high hip. The top comes in two colours: black and pink. Black is currently in stock in all sizes (4 through 10) while pink is sold out in two but has the other three sizes in stock.
A word of warning my dear Moosers: this top is final sale and it has some very diverse ratings. On the plus side, or reviewer said:
While the fitting of the peplum is a little funky and rides up a little, it is extremely comfortable and well worth the purchase. I very much enjoy wearing it as it is a fun and fashionable piece of clothing.
Other reviewers were not so happy with the fit:
A huge advocate for anything peplum, this wasn't what I wanted! The banding was just tight enough that it would irritate me throughout the day. The upper half was way too roomy to look cute. You'd have to size down if you purchased this.
You really have to decide for yourself my dear Moosers and be committed to your decision before purchase. While I usually avoid items with overall negative reviews, this is a Lululemon top for over 70% off - I just could not resist. Besides, not all styles will complement all figures and you might just have the figure that looks rocking in this top!
If this deal doesn't tickle your fancy, try out one of the others. This Yin To You Sweater was $119 and is now only $49. The sweater has fairly good reviews and is a great price.
(Expiry: Unknown)