70% Off Sunny Day Tripz Tote Bag Was $48 | Now $14.40 & Free Shipping @ Billabong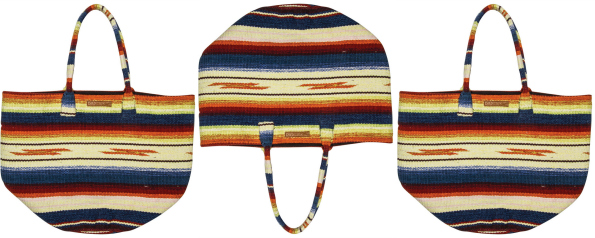 I just adore this Sunny Day Tripz Tote Bag I found on sale at Billabong. Originally $48, this large catch-all tote is on sale for only $14.40 with free shipping to your door. This bag is SO worth it as it is huge and made of 100% jute.
Sunny days are coming - though it might take a few days. When they do arrive, you will need a giant sized tote for all the things you want to take outside with you to play. This tote measures 20" x 15", thus it is perfect for hauling toys to the park, clothing and spare shoes to the gym, and swimming suits with towels to the beach or the pool. The fabric impresses me most about this tote.
As I mentioned above, the bag is made of 100% jute. Jute is a vegetable based fibre that can be spun into course, strong threads. I think of it as mini-rope because it is incredibly durable and can really take a beating. My cat could play with a jute bag and it would come out with little more than a bit of wear. Seriously, these bags are super tough.
I love Billabong's surf culture and have really gravitated towards it since I moved to the West Coast. When I head to the beach, all I need is my swimsuit, sunscreen, towel, and a bottle of water. I don't like to take an extra purse along, so I need a tote that can carry my beach gear and my wallet plus car keys. I also like to bring an umbrella for shade and a book to read. All of that fits so well into a tote this size.
I like this deal for so many reasons. First, Billabong is known for making quality surf-style gear and they are a brand that I have experience with. This bag also comes under $15, which is a fantastic price for a tote both of this size and made from a natural fibre like jute. Lastly, I love that this bag includes free shipping so you get a bargain without worrying about extra costs. Totes are so versatile in daily life: you can use them for baby toys, groceries, fitness gear, and more.
(Expiry: Unknown)