50% Off Lululemon Swift Headband - Now $7 & Free Shipping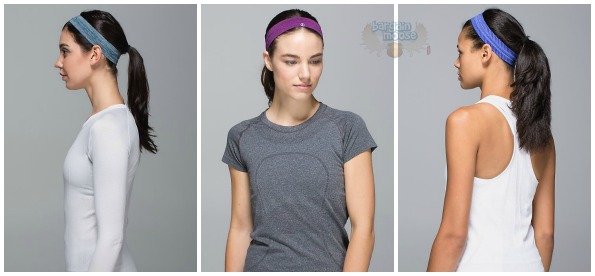 The Swift Headband just landed in the 'We Made Too Much' section at Lululemon. Originally $14, pick up the Swift Headband in a multitude of colours for just $7 with free shipping.
This item must have just hit the sale section at Lululemon as all band colours are still in stock. Choose from:
space dye heathered split pea (yellow)
space dye heathered pretty purple
space dye heathered alberta lake
heathered ultra violet/black
heathered pigment blue
The last picture of each picture series gives you a really good close up shot of the band so you can truly see what each colour looks like. I think my favourite is the Alberta lake colour followed by the split pea. I could always purchase both and even combine them.
According to Lululemon, the headbands are made of stretch Silverescent fabric to keep the fabric smelling fresh even after it has absorbed your sweat from countless runs. The moisture-wicking fabric will pull sweat away from your head and keep it from running down your face (and into your eyes).
Now, these headbands have a silicone design on the inside to keep the headband in place. However, I would say half of the reviews complain about the headband slipping off or not staying where it is put. Others do say that it stays in place, so it appears you need just the right size of head for this to work out. Here are two opposing reviews:
This headband is very cute, stylish, and comes in a great selection of colors, however, it does not stay on your head. I constantly have to take it off and put it on again every time i use it. I guess this would be okay for yoga, but for running and high impact activities, it does not work well.
and...
I purchased this headband to wear on my long runs. This headband stays put the entire time and when I take it off it is soaked with all the sweat it has captured and prevented from rolling down my face during my run.. Highly recommend this headband!
This constant slippage problem might just be why the headband has landed in the sale section. As per usual, all items in the sale section are final sale. As you would be buying this with full knowledge of the slippage issue, I doubt they would refund your money if it slips off your head.
(Expiry: Unknown)