50% Off Bike Spokin Stars and Lightning - Now $3.97 & Free Shipping @ Chapters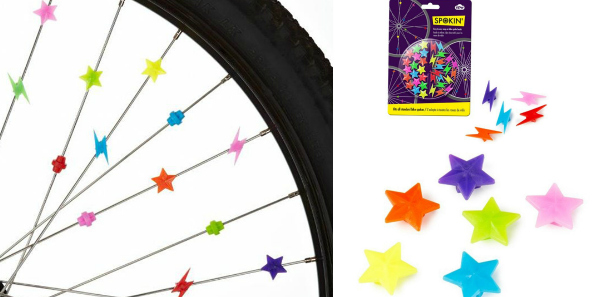 I like cool little gadgets and accessories that brighten up what you already own. This Bike Spokin Stars and Lightning set is a great way to spice up a bike with stars and lightning bolts that just clamp onto your spokes. Originally $7.95, they are now on sale for $3.97 per pack. Receive free shipping with no minimum purchase!
This pack is super cool: you get 18 lightning bolts and 18 stars that clamp onto the spokes on your bike. They will fit any standard-sized spokes and can be used for adult bikes and kid bikes! The stars and lightning bolts come in a variety of colours: six to be exact. In total, you get 36 plastic spoke beads to decorate your bike or let your child decorate their bike.
While these would never replace proper reflectors - I find that accessories like this help to make bikes more visible in low-light conditions. When the shiny plastic catches the light, it gleams.
I could not really price compare these in Canada, but I did find them for $8.49 USD down in the states so I know this is a super cool little item that will allow your child to have even more fun with their bike. They can decorate both the back spokes and the front spokes. With 36 pieces together, you could create a really 'glam' tire or spread them on both tires.
If course, you can also buy more than one pack! Then your child would have tons of little spoke beads for their bike with plenty to spare if they really want to go to town. In fact, I would buy these for my own bike as they are really cute and I would enjoy decorating my spokes. I might even just choose one colour - like green - to match my bike or do a two-toned design. Either way, these would be a lot of fun and such a great budget buy.
(Expiry: Unknown)