24 Fuzzy Wuzzy Pencils Were $12 | Now $6 & Free Shipping @ Chapters Indigo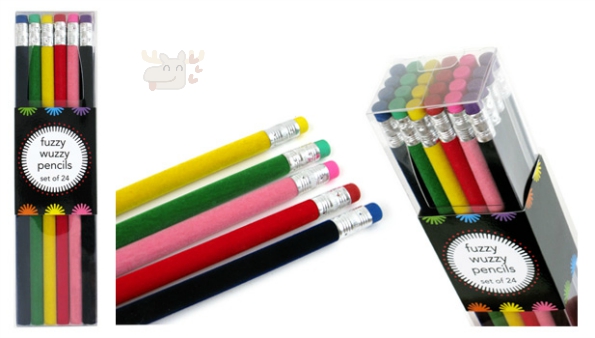 Fuzzy Wuzzy was a pencil! Pick up this super cool pack of 24 graphite pencils for your kids. The fuzzy pencils were $12, but are not only $6 for all 24 of them. Receive free shipping with no minimum order at Chapters Indigo right now.
This is a large pack of 24 fuzzy wuzzy pencils. The 24 graphite pencils are covered in a coloured flocking to make the pencil fuzzy. They are easy for young fingers to grip and they come topped with a matching eraser for each colour. These are 'regular' pencils in that the pencil itself is not coloured - just the fuzzy outside.
I do like the coloured outside because kids often have favourite colours that they like all of their school supplies to be. Some kids are obsessed with green, others with purple.
These pencils are super cool for children as they will enjoy the fuzzy outer while doing their homework, drawing, or writing. In fact, I know a few adults who would love to have fuzzy pencils instead of regular pencils: I am certainly one of them. I do not understand why adults have to buy plain, simple versions when kids get to have all the fun with funky pencils like these. I say fun pencils for all.
I think these pencils are a great deal for a couple reasons. First, there are 24 pencils in this pack for $6. I checked the cost of your most basic 24-pack of pencils, and they cost $3.04 at Walmart with a slightly better brand (but still plain) retailing for $6.87. These are still your basic run-of-the-mill pencils instead of fuzzy pencils. Thus, I figured this was a pretty nice - and fun - little deal.
You could always break open the pack and split it between the stockings on your mantel this Christmas. Everyone gets a few fuzzy pencils in different colours. Little packs like this are a great way to pack a stocking full of fun and good gifts.
(Expiry: 1st October 2015)