$1000 Free Jewellery @ Florence Scovel Jewelry With This Promo Code! (EXPIRED)

* UPDATE - everyone have a read of the comments in the thread below please. Needless to say, we will not be posting about this company on Bargainmoose again.
Want free jewellery worth up to $1,000? OF COURSE you do, so keep reading to find out how you can score Florence Jewelry of the month for free. Shipping is free too!
Click here to get free jewellery @ FlorenceScovelJewelly.com now
Coupon Code: BFCLUB4U
Discount: free jewelry of the month club
Expiry: Unknown
To be quite honest, I had zero hopes of this Florence Scovel Jewellery coupon code working as advertised. Clicking over to their website, I fully expected that my order total would remain the same and that a red error message would pop up, thereby crushing my dreams of obtaining free jewellery.
But Moosers, no such thing happened. After plugging the promo code, this happened: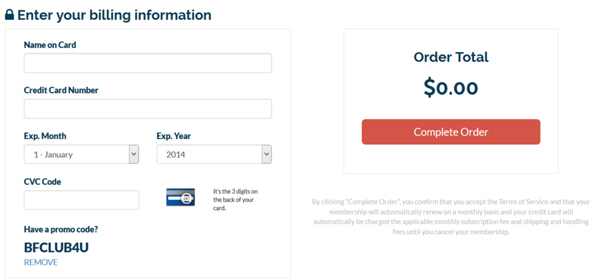 The order total dropped to $0. Yes, zero with free shipping to boot!
Even more incredible is that I tried the above coupon code on all 3 of the available jewelry of the month clubs and it worked on ALL of them, including the platinum one!! This is amazing because they usually cost:
$19 Florence Jewelry of the month: up to $200 worth of jewellery
$49.99 Premium Jewelry of the month: up to $500 worth of jewellery
$99.99 Platinum Jewelry of the month: up to $1000 worth of jewellery
Which one you should get is a no brainer! All of their jewellery is handmade, which means that you can expect some rather stunning handiwork.
Keep in mind that since the jewellery from Jewelry of the Month Club is shipped in the first week of every month, if you order now, there is a chance that you may get it before Christmas. This is only a chance, so I wouldn't rely on it 100% if you're looking to give this as a Christmas gift.
You may have read Eva's post about our two Bargainmoose exclusive promo codes for Florence Jewellery, the first being for a 20% discount on any order and the other being for $5 off. You can read her post to find out which code you're better off using in what instances, but if after you receive your free jewellery, you're satisfied with the quality and want to get more, make sure to use those codes to save on your order! There is even a possibility to get free jewellery with those codes as well if you use them right.
Important Information
As with any subscription-based freebie, you will need to opt out of the club once your free jewellery arrives. You can cancel any time but do make sure to do it (unless you want more jewellery that is) because your credit card will automatically be charged the following month.
And it's possible that this jewellery isn't really worth over $1000 per se, but does it matter? Free is free!