Safety 1st Audio Baby Monitor & Nursery Safety Proofing Bundle was $70 now $25 @ BestBuy.ca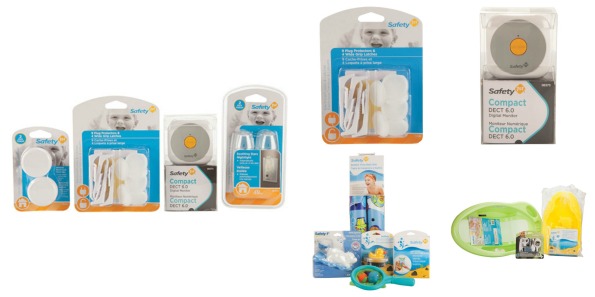 Over the past few years, Best Buy has really changed what their stores are all about. I used to think that Best Buy was just an electronics store, but now I know that they carry just about everything and that their online selection is better than ever. I spotted the Safety 1st Baby Monitor & Nursery Safety Proofing Bundle picture above, which was originally $70 and is now down to $24.99. What makes this bundle such a great deal is the fact that it include baby monitors. Those on their own are worth the $25!
The Bundle includes: two soothing stars night lights, nine outlet caps and four cabinet latches, a window blind cord windup and a compact DECT digital baby monitor. If you are an expecting parent, I can guarantee that you will need at least half of these things, if not all of them!
The night lights in this bundle are something every parents needs at some point or another. Some kids aren't afraid of the dark but they get up during the night and need a little bit of light to guide them to mom and dad's room safely. Night lights are also great for hallways and the kitchen, to have a little bit of light during those night time feedings. The night light along with the baby monitor are night time essentials for parents, to see and hear your kids. The monitor also gives parents a little bit of freedom, you can move freely around the house while still hearing your child through your monitor.
As for the outlet caps, the window blind cord windup and the cabinet latches, their uses speak for themselves. Babies are always sticking their hands everywhere, and you never know what they can get into when your back is turned. The blind cord windup keeps the window cord out of the babies reach since it can be a very serious safety hazard.
The Monitor & Nursery Safety Proofing Bundle isn't the only Safety 1st bundled deal I spotted at Best Buy. At this moment, the baby items on clearance are an extra 30% off. Safety First has two bath time bundles with lots of useful items at a great price who qualify for this deal. The extra discount is calculated in your cart. Here are two more Safety 1st bundles on clearance at fantastic prices (prices below include the 30% off calculated in cart):
Shipping is free on orders over $25 at Best Buy. Certain orders can be picked up in stores, but these bundles do not qualify.
(Expiry: January 21st 2016)