Babies R Us Canada: Lowest Prices of the Season - $15 Off Bumbo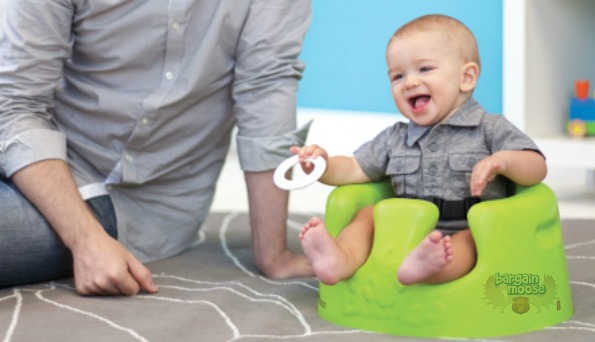 Babies R Us Canada is having their lowest prices of the season sale, with $15 off Bumbo seats.
If you don't know Bumbo, you should. Bumbo seats are these amazing foam seats that allow young babies to sit up before they can actually sit up. They do need to be able to hold their own necks up. I found these great for feeding them their first foods, as sitting in the high chair they would slide down, and the bouncy chair didn't have them in a good position for eating. When I got my Bumbo seven years ago, it didn't have all the bells and whistles it has now. It now has a tray you can purchase separately and it also now has a latch belt for those wiggly babies who try to get out of their seat.
What's also great about these seats is that you can take them anywhere, they are so lightweight. They are also really easy to clean, with wipeable surfaces that can get wet, and no crevices for food to hide. That was one thing I did not like about my high chair - all the crevices where food would get buried and you'd need to scrub with a toothbrush to get it out. Totally not my idea of a fun day. With this, you can even put it into the sink to wash it when your little one makes the gigantic mess you know they are going to make.
The only thing you should know is that you should never put this seat on a raised surface. In fact, you should never put your baby on a raised surface in anything, including a car seat or bouncy chair. You might think your infant can't do more than flail their arms and legs, but they will surprise you at every turn. One of my friends is a pediatric critical care nurse and I've heard some horror stories from her about people who have put their infants in a chair on a raised surface. Anyway, keep this seat on the floor as advised by Bumbo and you'll be all good!
Bumbo seats come in fun colours like red and aqua. Now only $49.87, regularly $64.99.
Shipping is free on orders over $100.
(Expiry: Limited time offer)