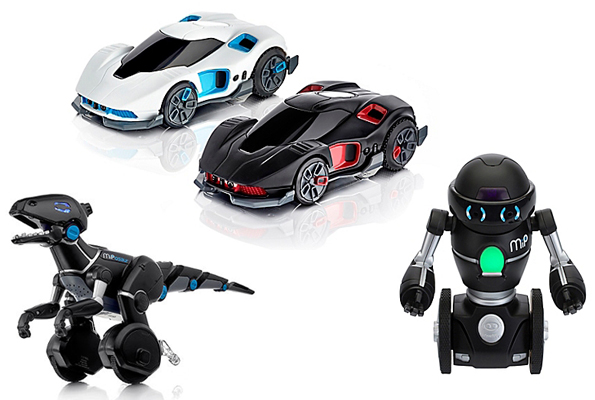 We're busy here at Bargainmoose trying to find you deals on some of the most wished-for items this holiday and WowWee's Artificial Intelligence toys: MiPosaur, MiP Balancing Robots and REV (Robotic Ehanced Vehicles) are some of the season's trending toys.
The average going price of these guys is between $100 and $130. Bed Bath & Beyond Canada has all three discounted by at least $20 -- the awesome MiPosaur is $30 off.
If you've not heard the buzz, WowWee has created a line of smartphone-controlled toys that fuse video games and artificial intelligence. Welcome to the future!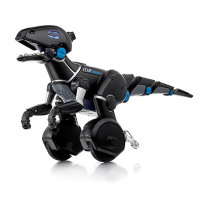 The WowWee MiPosaur is an interactive robotic creature that can be trained to sit and stand on its own. It features numerous games and can perform simple actions, tricks and even dances! Regularly $129.99, it is currently selling for $99.99 at BedBathandBeyond.ca.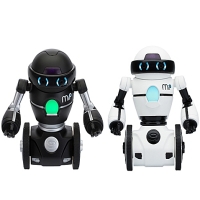 The WowWee MiP Balancing Robots respond to hand gestures or controlled by your smartphone. It dances to music, can learn up to 50 commands and tricks and plays various games. A robot would usually cost $99.99 but you can snag one now for $79.99.
WowWee REVs "battle" using indoor GPS that allows them to sense their surroundings. The two cars included in this starter set drive, think and fight by themselves. They can be driven on almost any surface and don't require a special track. You just download the free REV app onto your iOS or Android device and jump into the driver's seat! Your child (or you!) then faces off with the second car set to autonomous mode. Or. in multi-player mode, play different games like Chase & Evade and Capture the Flag. Normally $119.99, get the set for just $99.99.
Edit: Just after writing this, I saw that Toys R Us has marked their WowWee REVs down even lower to just $79.97! Get them here!!
So, if you've got an older child asking for one of these cool robots but found them a little too expensive, here's your chance to save!
Orders over $99 ship for free from Bed Bath & Beyond and I was credited the full shipping amount in my cart at Toys R Us, as well!
(Expiry: Unknown)