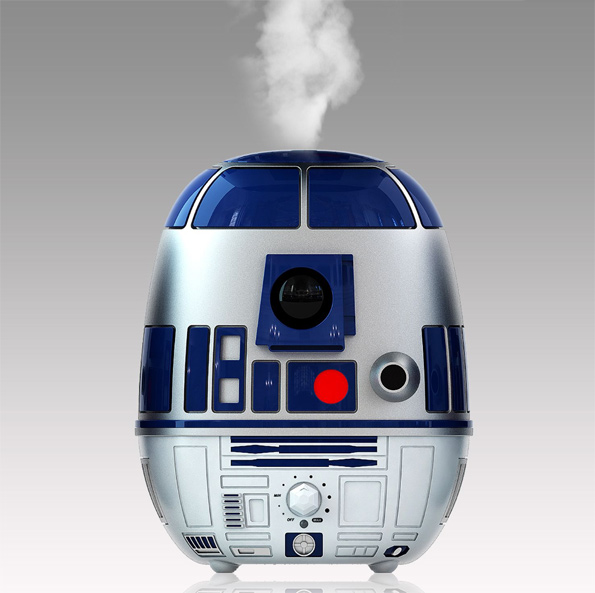 Need a humidifier? Need Star Wars memorabilia? Well, combine those two things and what do you have?? An R2D2 HUMIDIFIER!!! This is a must-have for ANY Star Wars fan!? Originally priced at $69.99 on the Sears website, you can get it now for only $54.99! And as this is over their $49 threshold, you will also get free shipping to your home.
Here's a quick product blurb to explain what this product is:
The R2D2 1 Gallon Humidifier adds moisture to any room with ultrasonic cool mist. It has anti-microbial technology and fights mold and mildew. Conveniently sized for traveling, the R2D2 1 Gallon Humidifier is super quiet to be used even while sleeping.
Now it's not a massive device; it's quite hard to tell from the images. But the dimensions are listed as follows: 11.5" high, 6" wide and 9" deep. It sounds quite compact and cute!
This is the one gallon model – there is also a smaller 650ml model available, but it's the exact same price. You can decide whichever you prefer, but the 1 gallon model would have a higher output and efficiency, and more suitable for use in a larger space.
As for comparing the price of this R2D2 humidifier elsewhere in Canada, it's impossible to do! It IS listed on Amazon.ca but it's not available, and I cannot see it for sale anywhere else at all. However, it's not really the price that would be a major factor in a purchasing decision on this one – it's the coolness factor!!
Many other parents have said to me about the benefits of getting a humidifier. My little girls are quite prone to getting colds, sneezes, and they often lead to croup. I am told a humidifier helps, but I've never quite gotten round to buying one. Now, I had no idea that you could buy character ones like this R2D2 one. This would look fab in a kid's room!
(Expires: 30th November 2015)
P.S. Good Christmas gift idea!!