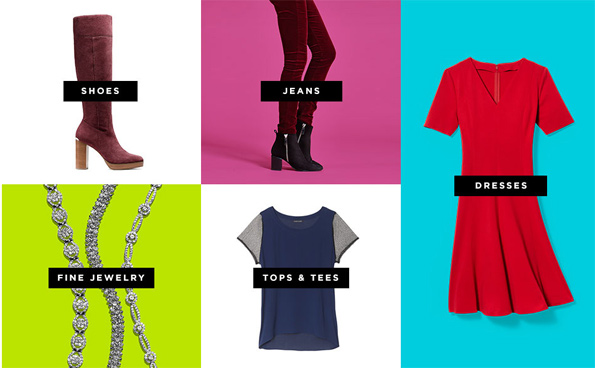 Today is Remembrance Day in Canada, also known as Veteran's Day in the US. We're subscribed to quite a few newsletters from US stores, as we keep our eyes out for deals there too. I've noticed quite a few coming through in the last few days specifically for Veterans Day, so I thought I'd do a bit of a showcase of a few big stores with big deals to share – specifically Target, Macy's and Bloomingdales. And I also stumbled on a coupon code which stacks ON TOP OF current offers at ALL three stores to reduce your duties to ZERO!!
Shop @ Target | Shop @ Macy's | Shop @ Bloomingdale's
Promo code: DUTYFREE
Discount: No duties
Expires: Unknown
Shipping features: For Canadian orders, all these stores use Borderfree as a shipping agent – meaning that all taxes, duties and customs fees will be shown and charged to you at checkout. You'll be able to see exactly how much you are going to pay for your order when checking out. With the coupon code combos below, there is the potential for some great bargains here!

Target.com
Did you know that the DOT COM Target store recently started shipping orders to Canada? It just happened in the last week or two, in case you were not aware. There were many Moosers who were avid in-store Target shoppers until they all closed down… so there may be some products that you want to have a look at online, instead.
Prices can be shown in Canadian dollars when you are browsing the site – just make sure you select Canada as your country if it pops up and asks. And I've found some more coupons for them too:
Click here to shop online @ Target now
Promocode: CANADASHIP
Discount: $20 off shipping on $100+ (CAD)
Expires: 15th November 2015
Initially when I was writing this deal, it was ONLY about the $20 coupon above. But when I added the CANADASHIP coupon THEN the DUTYFREE coupon – it actually gave a double stacking discount on the order as you can see here: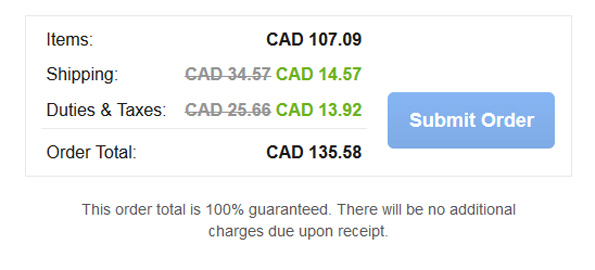 Wow! Really pleased to see the coupon stacking on this!

Macys.com
Again, when you are on the Macy's international site, you can select to show prices in Canadian dollars.
Click here to shop online @ Macy's now
Promocode: VETDAY
Discount: 10% to 20% off (terms here)
Promo code: VETDAY25
Discount: US$10 off $25+ ($13.91 off $34.78 CAD) (terms here)
Expires: 11th November 2015
As I was doing a test order on Macy's, I noticed that they had the exact same checkout system as Target, which I was writing about above. I decided to try the same coupon codes and I was astounded to see that the DUTYFREE coupon code worked too! Here's what I mean: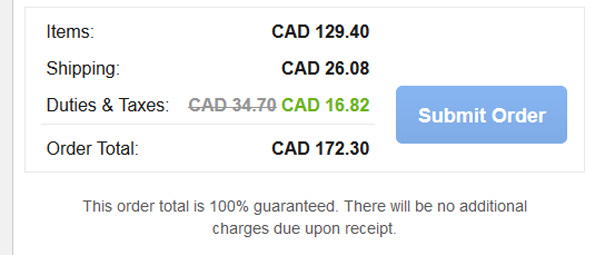 This can make for a really great saving – a good few extra bucks off your order.

Bloomingdales.com
On Bloomies online website, you can also choose to browse and pay in Canadian dollars. And here's their current deal:
Click here to shop online @ Bloomingdale's now
Promocode: HOLIDAY
Discount: 25% off almost everything in fashion & home (terms here)
Expires: 15th November 2015
Promocode: CANADASHIP
Discount: $20 off shipping on $100+ (CAD)
Expires: 15th November 2015
Here is an example of those codes in action in my shopping cart: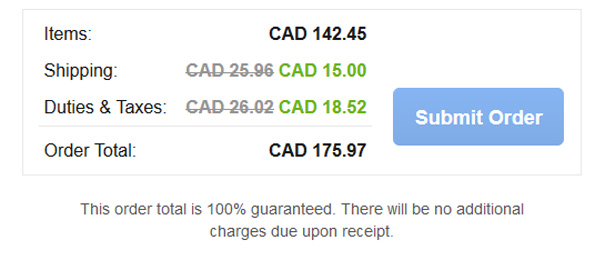 The bag I was trying it out on was originally priced at $271 but it dropped to $189 in their sale. The final price including shipping , taxes and all fees was $175 which is great!!
Conclusion
If you're looking at buying from these types of stores, it's taken as red that you're likely going to be paying a bit extra in shipping fees and potential extra fees. However, sometimes there is a much wider choice in what you can actually buy compared to what is actually here and available in Canada. You've got to weigh up the cost of your purchase in this fashion – it's not just all about price. :) For example, when I wrote this Star Wars gift guide yesterday – many of the items simply were not available to buy from Canadian sellers. If you really want something in particular, sometimes you have to buy from US stores like those above.