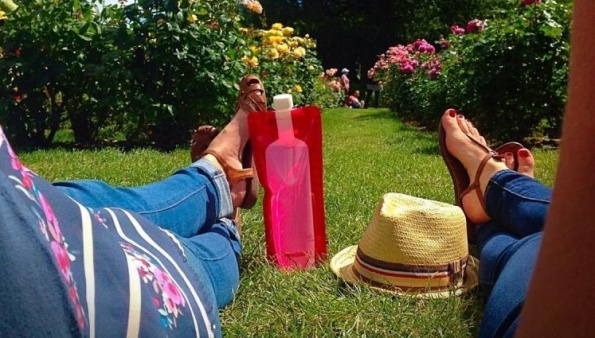 *BUMP! This awesome item is back in stock at a low price again* :)
AHA! I wanted to write about this awesome little trinket weeks ago but it sold out before I could get it out to you guys. Now it is even cheaper, happy dance! So snag this Wine2Go The Foldable Wine Flask before it is too late, because right now the price is just $16.99 but normally it would cost you $28.78.
So not only is this a cool item, but it is also a great price. I just love when you can combine those two things! The Wine2Go The Foldable Wine Flask can hold an entire bottle of wine, which is pretty nifty. Right? I still can't believe the price. For just $16.99 (41% off) I may just snag two of these foldable wine flasks.
After you receive your wonderful new trinket, wash it and fill it with your favourite wine. Since it holds the full bottle, you won't have to worry about wasting any or leaving any liquid gold behind. These foldable wine flasks are great for picnics, beaches, concerts, hiking, camping, parties and so much more. You'll never have to worry about broken glass again, unless of course you drop the actual bottle of wine while trying to fill this thing. Plus, when you're all finished your delicious beverage then you can just roll up the Wine2Go Foldable Wine Flask for easy storage until you get home to wash it. You just need to rinse it with warm water, the details on Amazon.ca say that no soap is necessary.
There is one review on this item, and all it says is "Great". My guess is that they were too drunk to write  more detailed review after consuming their whole bottle of wine when testing out their new Wine2Go The Foldable Wine Flask. UPDATE - there are now 3 more reviews, all POSITIVE!
You will need to spend $25 to get free shipping from Amazon.ca, but if you grab two of these Wine2Go Foldable Wine Flasks then you will definitely reach that. So why not snag two?! Or, if you have Amazon Prime, it's free shipping anyway. The items are from either etailz or LaPrima, but this flask is fulfilled by Amazon themselves.
(Expiry: Unknown)