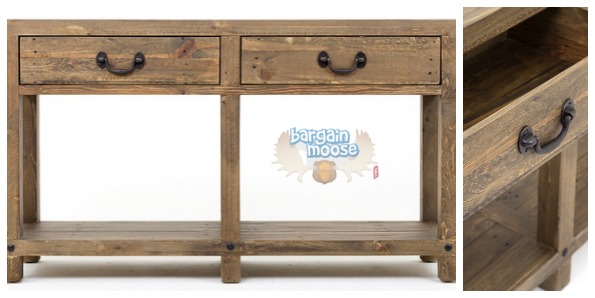 Buying nice furniture for your home should be easy and exorbitant shipping fees shouldn't be part of the deal either. When you buy furniture from traditional furniture stores in-store, you are looking at a $75 delivery fee. Wicker Emporium's shipping fees were also quite steep, always stopping me from ordering from them. Luckily, they've now added free shipping on any order over $500, which is a minimum saving of $50. I found this gorgeous Stonemill Console Table with drawers made from reclaimed pine that is originally $1199.99 and now only $599.99. Of course, you'll get free shipping on this item while also saving $600 on the table itself.
I was at a garage sale this weekend and found a gorgeous console for such a great price. Too bad for me I was too late and it had sold. It needed quite a bit of work to get it up to my decor standards. Something like this Stonemill table requires no work and is a piece that can be handed down in years to come.
It has a rustic look that is incredibly hot right now and will look great in your kitchen, dining room, front hall or other living space even when this trend is longer. Not just for looks, it also has a functional use with two drawers for keeping paperwork, keys, electronics and random kitchen tools.
What's so amazing about reclaimed pine is that it promotes responsible uses of wood for our forests. Rather than cutting down a new tree, they reuse the wood from something else. See this Wikipedia article for more information on reclaimed lumber.
Reclaimed pine furniture can be expensive and I found a few Canadian stores that sold reclaimed pine consoles similar to this one. Urban Barn has one very similar selling for $699, but you'd have to go and pick it up in-store. Nowhere did I find a table of this size with drawers selling for that low of a price and shipping for free.
Of course, you could also see what else piques your fancy at Wicker Emporium as any order over $500 is subject to free shipping. You could also pair together a few smaller items, as they have some beautiful decor items.
(Expiry: Unknown)