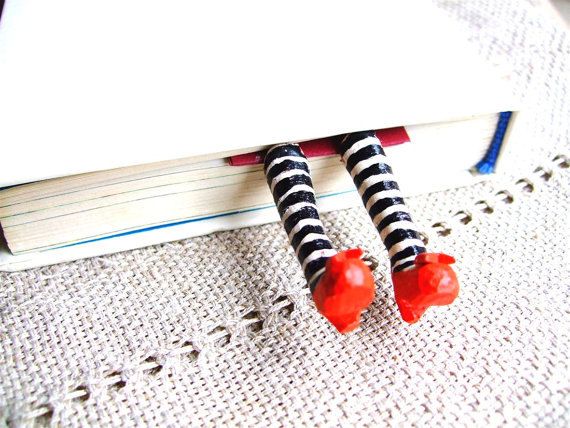 Here is an absolutely perfect gift for the avid book reader, especially if they loved the Wizard of Oz movies. Right now you can purchase this totally adorable Wicked Witch Bookmark for just $10.74 at Etsy.com. This item is available through the shop called Ian's Cafe, and this particular seller has amazing ratings. You will have to pay additional shipping fees, but they are reasonable.
The Wicked Witch Bookmark by Ian's Cafe is both clever and striking. These adorable little witch feet are sure to mark your page in your book, and they will look totally adorable while doing so. These are a fabulous gift, and you can cal this Wicked Witch Bookmark yours for just $10.74.  Now, your book is Dorothy's house!
The wicked witch legs are crafted with polymer clay. These particular legs are not painted, so you shouldn't expect to see the paint chipping in the future. The bookmark portion is made of double thick card stock and is laminated. The creator of this item states that they will last quite a long time for reading about wizardry, spells or whatever else you may be needing a bookmark to read.
On the actual bookmark part of this item there will be a quote. The only catch is that the quote is completely random. It could be a quote from the book, or it could just be a funny saying. You don't get to choose unfortunately, but at least it will be a little surprise for when the item arrives. Ian's Cafe is also willing to ship this item directly to the gift recipient. So if you live quite a ways from someone who would love to receive this for Christmas, you won't have to worry. There are also many wonderful reviews on this particular product from this seller, so I don't think you have to be cautious about this purchase at all.
Now let's talk about shipping. When it comes to shipping costs, it is pretty plain and simple. Canadian residents will have to pay $6.50 shipping for the 1st bookmark, but each bookmark afterwards is just $0.25 to ship. So maybe you want to gift a few of these to some avid book readers this Holiday season? They are shipped from the United States, so they shouldn't take too long to arrive.
(Expiry: Hopefully never?)