UPDATE 9th April 2009 - now up in price to $5.49
As I mentioned in my post about Well.ca last week, they do various daily, weekly and monthly offers. This month, it's worth pointing out a particularly good offer for Burt Bees Lip Shimmers! They are offering this item for only $4.79, which includes free shipping! You can choose your fave flavour too: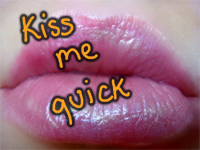 Champagne
Guava
Fig
Rhubarb
Watermelon
Don't think I'd fancy rhubarb flavored lips, but you might (Update: Alex tells me they are colors, not actual flavors)! Click here to order your Burt Bee's lip shimmer from Well.ca, Canada's online drugstore.
On the Burtsbees.ca website, they state you should eat it off. Kiss it off. Talk it off. Re-apply. Sounds good to me! Especially the kissing part. On reading round the internet, Burt's Bees products seem to get excellent reviews from everyone that uses them. I have never used any of their product ranges, but I hope to get my hands on some soon, and give them a try myself. If and when I do, I'll share my opinions on the Bargainmoose blog!
This lovely deal expires on the 1st of May 2009.
Thanks kamile81!