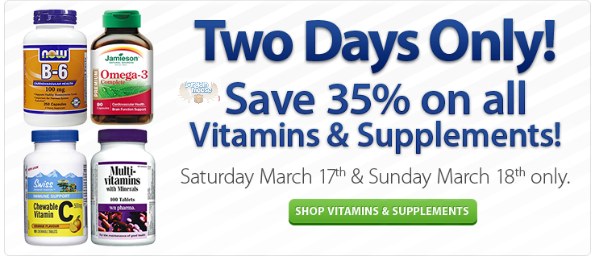 For two days only, save 35% off all vitamins and supplements at Well.ca. There is no coupon code needed and you'll get free shipping too!
Children's multivitamins are always on my shopping list - my kids love them, a little too much. The Disney Princess Multivitamins (60) are on sale for $6.49 (reg. $9.99), as are Disney Tigger and Pooh Gummie Multivitamins.
Jamieson Super Strain Acidophilus can be used to aid digestion, prevent traveler's diarrhea, and keep your intestinal bacteria in check. For $11.43 (reg. $17.59) you can get 90 capsules. Unlike a lot of other probiotics, this one can be kept at room temperature and doesn't need to be kept in the fridge.
Whatever kind of vitamin or supplement you take, it's stock up time at Well.ca.
Expires: 18th March, 2012