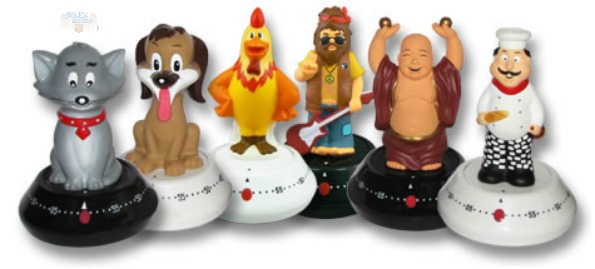 Every cook could probably use a timer in their kitchen. There is nothing like trying to achieve a soft boiled or hard boiled egg by 'feel'. Get 40% off Talking Timerz this week at Well.ca
I find these timers sorta kitsch, but that is the point. They are supposed to be kitsch and fun because they talk and sometime sing! Each timer has its own unique round of phrases and a song it sings. My preference out of the styles is the Kitty Cat Kitchen Timer which was $24.99 and is now $14.99. For the cat, the timer has five 'talking functions:
Meow, meow, meow...Dinner's ready...I see a mouse – gotta go!
Meow, meow, meow...Pet me, then don't, then do, then don't.
Meow, meow, meow...It's buuurrrning and I really don't care.
Kitty Cat sings "Strangers in the Night"
Angry Kitty Cat
Perfect for a cat lover. There is also a dog timer, and other themes as well. They are all 60 minute timers so perfect for eggs, cookies, and most baked goods.
Get free shipping on orders of $25 or more.
(Expiry: 13th October 2013)