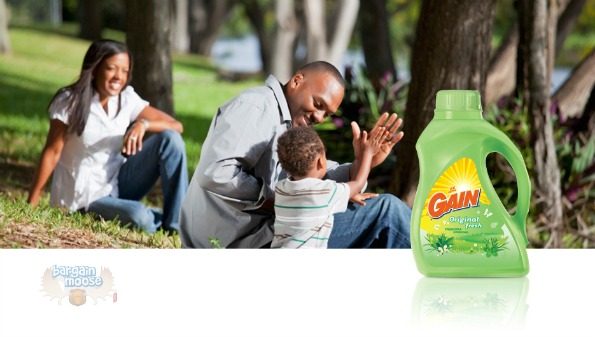 Get a substantial 40% off Gain Laundry care products right now at Well.ca. This sale includes detergent and dryer sheets.
Is there loyalty to laundry detergent? If there was, I would have to say the Gain ad campaign for 'your clothes were never there' featuring naked men cooking or at the gym looking all natural in their sweaty environment probably would have made me switch my loyalties to Gain. The advertisements were so risque that when considering if I would use one for the banner on this post I actually ended up rejecting it in the end for fear someone would turn on their computer to the dear ol' Bargainmoose and freak at the sight of a jolly gentleman on a stationary bike while promoting Gain detergent. But seriously, look the ads up. They are hilarious!
On to the actual deals: 40% off is a good chunk of change and the discounts show it. This bottle of Gain High Efficiency Laundry Detergent is regularly priced at $8.58 but is now on sale for $5.15. You can get Gain Dryer Sheets - 120 count - for the same price on sale: $5.15 down from $8.59.
Get free shipping on all orders of $25 or more. Make sure to check the forum for any Well.ca coupon codes you might be able to use.
(Expiry: 20th October 2013)