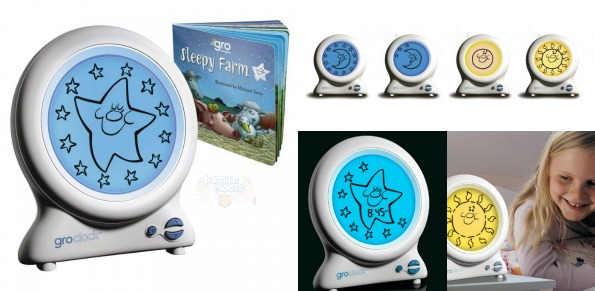 Well.ca is offering $10 off the Gro Clock for children. Help your little one learn to stay in bed until the appropriate time by using the Gro Clock. Originally $49.99, the clock is on sale for $39.99 and will come with free shipping as it costs over $25.
This clock is the perfect little device for children growing up in the northern hemisphere. The sun does not always rise and set at the same time every day, so this clock features stars, a moon, and a sun to tell your children when they should still be in bed and when they can get up. The stars around the moon go out one by one as a 'count down' to the sun rising. The fewer stars, the sooner morning will arrive.
The Gro Clock comes with an illustrated book, which encourages children to stay in bed longer. It features a key-lock option to prevent industrious children from tampering with their alarm clocks, and it has the option of an audible alarm clock as well. You can adjust the screen brightness. There is an option for two separate wake-up times, which can be useful for weekday/weekend or night-time/day-time nap settings.
For any parents desperate to sleep past the wee hours of the morning, this is a good investment. Here is what reviewers are saying:
My 3 year old son was waking up at 5am every day. We were all rather sleep deprived so I thought I'd give this a try and it worked really quickly. He liked the little story that went with it and it helped him understand why to stay in bed. We set it for a 6:00 am and added 5 mins every day and now he sleeps till 7am no problem. Everyone is happy :)
I price compared with other companies to make sure you were receiving a good deal at Well.ca. Amazon Canada has the Gro Clock priced at $49.99, as does Toys R Us. I also found the Gro Clock at Snuggle Bugz Canada for $54.99.
At Well.ca, you are certainly getting a good deal and might start getting more sleep as well. I would have loved one of these clocks when I was a kid as the passage of time was so horribly slow with each red minute seeming like an eternity till I was allowed to get up.
(Expiry: 2nd November 2014 or while quantities last)