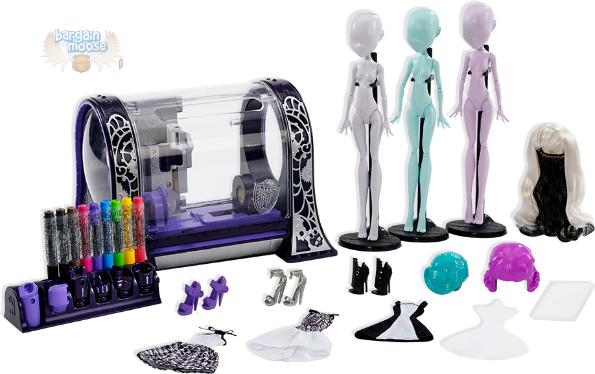 Walmart Canada has discounted the amazing Monster High Monster Maker factory from $149.97 down to $50! While Walmart Canada states 'free shipping on orders over $50', orders OF $50 actually qualify as well. Thus, the Monster high Monster Maker will ship out to you free of charge.
This is like the coolest machine ever in the history of dolls. Here you are given blank doll parts that you stick in the monster maker machine. Then, you can choose pre-designed icons from the software included and print those designs on to your doll. You can also make your own designs and print those on to the doll as well. The software is compatible with your computer or works off of an iOS or Android app. The software is downloadable off the internet or the nearest app store.
Your set comes with the Monster Maker machine, body part adapters, downloadable software or App, nine coloured markers, three blank fashions and shoes, one rooted wig, two moulded wigs, three "blank" bodies, three doll stands, one tool stand, and 1 eraser sponge. Yes, your creations can be erased and then you can print all over the dolls again! With three dolls to create, this Monster Maker is really quite the little factory and is such great value for the price.
I price compared this unit with other online retailers. The Monster High Monster Maker retails for $99.97 at Amazon Canada. The cheapest I could find it in the USA was $59.99 USD at Amazon.com. Toys R US.com was selling the same set for $129.99 USD.
Thank you to my wonderful co-writer Brooke who pointed this deal out to me. She knows I am a fan of Monster High Dolls (seriously, I only own four) and would probably be interested! I love these dolls and want to add a couple more to my collection. I would really like to get my hands on a Frankie Stein and a Draculara doll... preferably the originals.
However, I could always just make my own dolls! This set is so cool that I just had to show you a video of how it works.
I can't believe how far toys have come that you can design and then make your own dolls. I would have gone nutz over this as a kid; not that I am too far from that state now.
(Expiry: unknown)