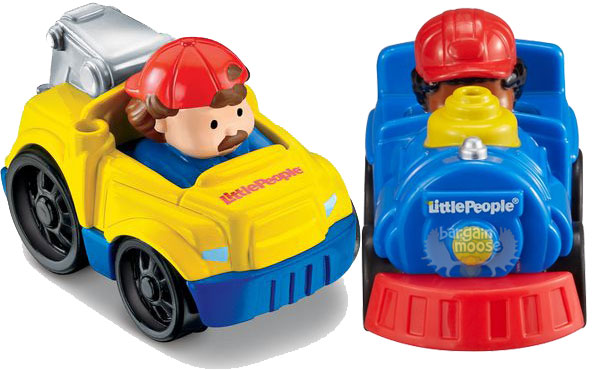 Looking around Walmart's clearance section, I spotted a great little deal on the Little People Wheelies, now on clearance for just $2.50 (was $3.94)!
There are a couple of different ones available and some are already low on stock, so I would hurry up if I were you.
The ones that you can get on clearance for just $2.50 are: Hot Rod, Recycling Truck, Tow Truck, Camouflage 4x4, Monkey Vehicle, and Steam Engine .
All of these are suitable for kids ages from one to five years old and each vehicle has a Little People character built inside (so no worries about these getting lost in your house or being a hazard to step on).
It doesn't count per say, but just to give you an idea of how exclusive these Little People vehicles can be, I found the Little People Wheelies 2-pack ambulance/ Hot Rod priced at $28.05 at Amazon. It doesn't count per se because it's not sold by Amazon directly, but it's still interesting to use it as a price comparison tool to see how much these Little People go for on the internet. :P
They're $0.50 more, but the Batman collection of these is also well worth checking out. They're on clearance as well but for $3 (was $4.94):
Personally, I would totally get both the Batman and the Joker one so that they can battle each other! :P
Unfortunately, you won't be able to pick up just one of these and get free shipping as Walmart no longer offers this service but you could either shop for over $50 to get free shipping, or select the option to deliver to a Canada Post location near you. It really comes up to the same thing to have it delivered to a Canada Post because it's free. The only drawback is that you need to remember to pick it up.
(Expiry: Unknown)