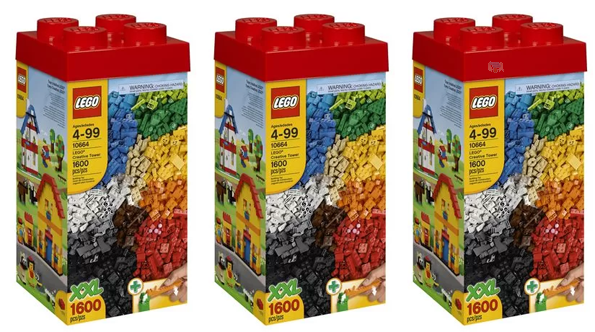 Oh hey there, my fellow Bargainmoosers! WalMart currently has an awesome deal for a LEGO Creative Tower Set (10664), and it's one that you should definitely keep your eye on. At this time, you can buy this hard-to-find LEGO set for only $40! This LEGO Creative Tower Set normally sells for  $110.01 on Amazon (and that's for a Japanese import), so you'll be saving plenty of your hard-earned cash on the regular price! Best of all, you'll also get free shipping! This set is very tough to find here in Canada, and you'll usually have to resort to Ebay to purchase it (and it'll still end up costing you about $112.72 plus $64.12 shipping). Get this deal now before it's gone, folks!
This LEGO Creative Tower Set has 1600 pieces in total - that's a lot of LEGO for a cheap price! You can build anything you want to with this set - the choice is yours!
When you want to show someone that's close to you that you care enough about them to get a present, it can really make them happy. Sometimes, it's really a great feeling to be considered during this festive time of the year. When you can provide a thoughtful gift to a family member or a friend while saving some of your hard-earned cash, your kind gesture will be that much easier for you to do. This LEGO Creative Tower Set is a great example of a product that can easily be turned into a thoughtful gift - after all, you'll be getting it for only $40!
This deal won't be around for long, people! Since LEGO sets are so popular, I wouldn't be surprised if this LEGO Creative Tower Set was sold out soon after this article is posted here on Bargainmoose. If you love LEGO, then you need to get this deal. I hope you all enjoy your day today!
(Expiry: Unknown)