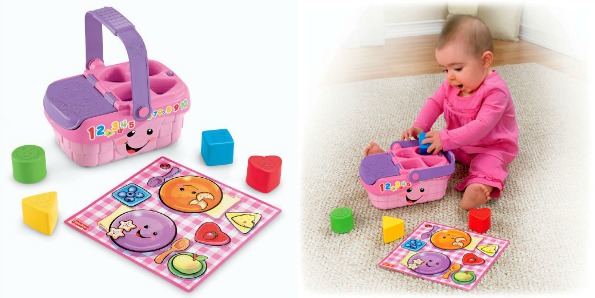 I found a fabulous gift idea that will delight any toddler or preschooler. My son loves to put on "picnics", where he'll get a blanket and set it out, but use real food from my cupboards in all my plastic containers and set it out for us as a surprise. He might be too old for this set, then again he might not and this might stop him from stealing (and spilling) all the food in my cupboards! This Laugh & Learn Sweet Sounds Picnic is super cute for babes and toddlers and even preschoolers and is on clearance at Walmart with a regular price of $24.97, now down to $13.
What I love about this toy is that it engages the baby with sounds and colours, but also teaches them about shapes, counting and more.   Basically this set is a little picnic mat with basket, with some shapes that the child can match up to the mat or try to fit into the same shaped holes in the basket.
When baby opens the picnic basket lid, it plays songs and has sounds, which any baby loves. All babies and kids love noise. Trust me, I know this very well.
There are few reviews on Walmart's site that vary quite widely. Two of the reviewers didn't like it that once you put a shape in the basket, it blocked other shapes from going in and that it frustrated the children. Personally, I call that a "learning opportunity". This can teach children problem solving as they could open the lid, take out the shape blocking their way and move on. Otherwise:
My daughter had it since she was few month and now my son is playing with it and it is still working. The music is great and my daughter love to sing along with it. I am buying one more for my friend's daughter.
Other stores still sell this toy at full price, including Sears.
Free shipping will be on a $50 spend or you can opt to send it to a Canada Post location for pickup for free.
(Expiry: Unknown)