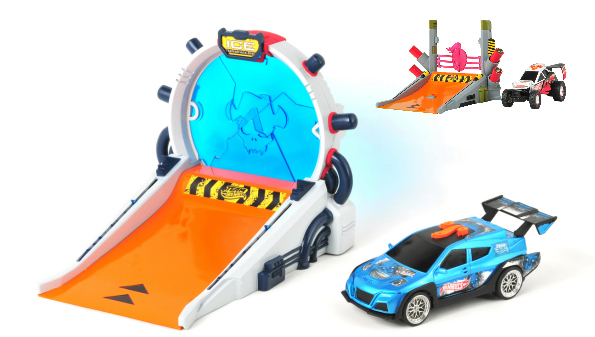 Hot Wheels is always in high demand. Like LEGO and Barbie, it is a brand that has cemented itself into the Canadian child's psyche. While browsing Walmart Canada, I found a couple Hot Wheels Stunt Cars on sale from $19.92 down to just $9 each. Each car comes with a ramp for launching.
These are pretty special Hot Wheels cars. Each motorized car has realistic sound effects, cool light effects, and exciting music. You launch the cars off the included ramps for some really sweet stunts. The Ice Breaker goes through a pain of 'ice' when it launches via the ramp. The Explosive Ramp set has exploding barrels out the side of the ramp when your car hits the barrier.
Essentially, these Hot Wheels car sets are all sorts of awesome for children to play with. They can use the ramps with their own Hot Wheels cars as well for fun. I know many kids love Hot Wheels and have a large collection like Mooser Sandra said when we suggest ways to Reuse Hot Wheels Cars:
Great idea but apparently my son needs all 198 of his…….he did write "I love you" with them when I asked him to count them and then pick them up.
That is a huge stash of Hot Wheels.
There are a few other Hot Wheels deals on tracks and such (not including cars) that i wanted to mention. I usually find the cars deals are more popular, but your kid can always use a track or two for his cars.
That Ballistiks set at the bottom would be really nice to pick up as well. You can use the Bomber Plane to fire cars at the Drone. Receive free shipping to your local Canada Post.
(Expiry: unknown)