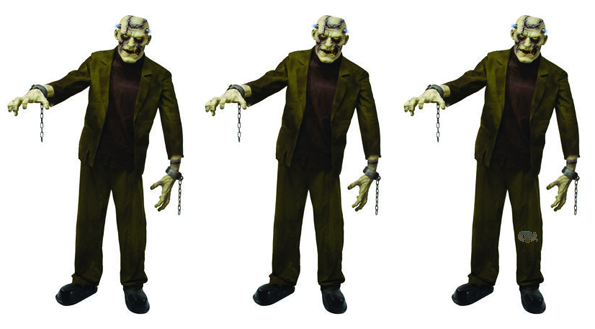 Now that Halloween is around the corner, it's a good time to save on some much-needed spooky decorations! This particular piece of merchandise caught my eye for three reasons: It's huge, it's scary, and it's an obvious Frankenstein monster look-alike! Normally $199, you can now buy this awesome Lab Monster for $99.50. Best of all, you'll get free shipping with your order! This would be a great thing to have in time for Halloween!
There isn't a lot of information available about this life-sized animated Lab Monster, but according to the description, it lights up as well. I guess a picture is worth a thousand words in this case - I mean take a look  at this movie monster! It's massive, it's intimidating, and it's the perfect thing to have on your porch for Halloween for many years to come! I'm sure it would also be a big hit at a Halloween party, so you can get a few extra usages out of this intriguing yet spooky decoration.
Though this product doesn't have the official Frankenstein license, it still gets the job done. Plus, you can always try to scare your friends or your significant other with it - just sneak it into their closet and see what happens! Maybe I'm still just a big kid, but I think that would be hilarious - especially if you record their reaction on video!
If you wanted to buy an official animated Frankenstein monster from The Spirit Of Halloween, it would cost you $299.99 US, so this is a great deal. Without any further ado, here is Leonardo DiCaprio doing his best impression of the Frankenstein monster.
This deal won't be around for long (we all know how WalMart clearance items for products like this sell out pretty quickly), so check this out if you want to have a great discount on an awesome prop. Happy hunting, Bargainmoosers!