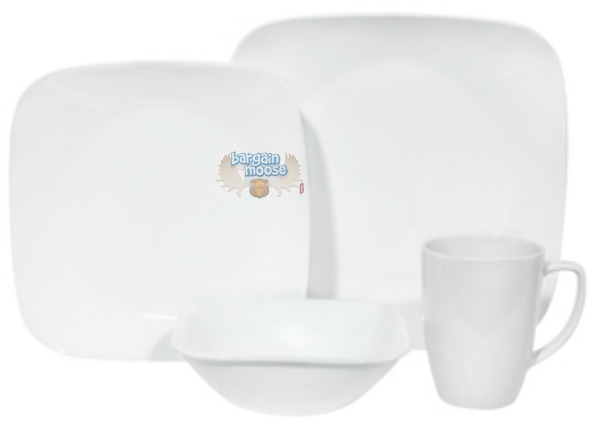 Get the Corelle square 16-piece dinnerware set for only $49, was $62.97 on rollback at Walmart online.
With Thanksgiving and Christmas approaching, it may be painfully obvious that you don't have enough plates or cutlery to feed your family. I've hosted a Christmas a number of years now and it feels a little embarrassing when my in-laws have to bring the dishes. And the food. And the booze. This year, I'd like to be a little more prepared and have everything so my guests can relax (and I can be the stressed-out hostess).
I love Corelle dishes because they say they are unbreakable, and in my house, I find that impossible, but so far they have proven their worth. The other day my dog decided to lick the dishes as I was putting them into the dishwasher. Her collar got stuck on the rack and when she went to pull away she realized this and panicked. She pulled the entire bottom rack of my dishwasher filled with Corelle dishes throughout the house as I screamed and freaked out and my kids then screamed and freaked out. Not one dish broke. If that is not a glowing reviews of unbreakable dishes, I don't know what is.
If you don't believe my review, read the ones on the Walmart site, which are most just as good.
Shipping will be free for this item.
(Expiry: Unknown)