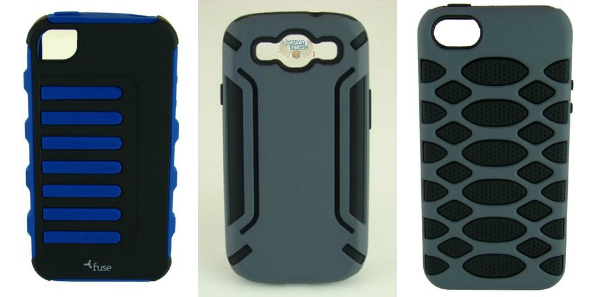 If you haven't heard, Walmart is attempting to crash Amazon Prime's party with their own stellar deals. In the USA they are advertising it as prime deals without paying for a prime membership. Here in Canada, the move takes the form of a huge clearance sale! While looking at all the sweet deals, I found a selection of cell phone cases on sale from $14.98 down to just $3. Receive free shipping to your local Canada Post with no minimum. I usually have to pick up all my parcels from there anyway.
So many of us do not own the latest cell phones from Apple and Samsung because our previous versions are still in fantastic condition and do the job. Besides, that $800 price tag can be a bit daunting. At 80% off, these cases are a great deal for your current phone.
This Phone Shell for iPhone 5/5S Grey/Black is my favourite for my current phone. It has a fun geometric shape. Each of the black ovals on the case have little grip beads on them to help you keep a handle on your iPhone. Originally $14.98, this case is now just $3.
For the iPhone 4, I must go with colour. The Fuse Phone Shell for iPhone 4 Black/Blue is a sweet colour combination and a steal at only $3. The primary body is black with blue elevated silicone bits that help you hold onto your phone. One reviewer said:
I got this on clearance for $3 so it was good value. It has soft rubber grip and hard rubber corners, which is what I was looking for. Major downside is it doesn't have a screen protector.
I would say 90% of cases these days do not come with screen protectors. You order them separately.
One of my best friends has a Samsung Galaxy S4 so I may be sending him this deal after I write it up. Purchase this Fuse Phone Shell for Samsung Galaxy S4 Grey/Black for just $3 (was $14.98). Reviews are a bit mixed but both agree that the cover is good quality. One reviewer just had a hard time getting the case on.
For the Galaxy S3, there are plenty of options. I like the Fuse Phone Shell for Samsung Galaxy S3 Grey/Black because of the two-tone accents. Originally $14.98, the case is now just $3.
Receive free shipping on any order to your local Canada Post. If you really want shipping to your home, the minimum for free home shipping is $50.
(Expiry: Unknown)