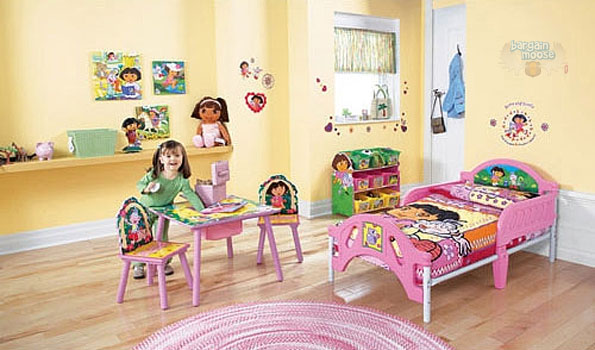 Is your little one obsessed with Dora the Explorer? Then here's something that is sure to delight both of you: the Dora toddler bed is on clearance at Walmart for just $40 (reg. $69.97).
Googling Dora the Explorer, I actually discovered that this highly popular TV show has been on the air for nearly 15 years! I didn't think it had been that long, but it's definitely one of the most popular TV shows, if not the most renown right now. Sadly, it is scheduled to end on January 2015 after 8 seasons, countless books and even a number of video game series. Either way, this bed would definitely be perfect for any child who is a fan of the show. It meets all the safety requirements with its sturdy steel frame and is recommended for children from 18 months to 5 years and has a weight limit of up to 50 lbs.
I particularly like that this bed comes with side rails and is also low to the ground, which can make the transition from a crib into a regular bed an easier one.The mattress isn't included but any regular crib mattress may be used. Here's what one reviewer had to say about it:
Easy delivery, assembly (under an hour) and lil one loves it. Very sturdy and even after a month of jumping on it  no issues.
Other reviews also agree on the speed of assembly but some have mentioned issues with putting together the side rails. One reviewer even mentioned having to use PAM to slide the side rails in but once the bed is assembled, then all of the reviewers noted positive experiences with an overall star rating of 5 out of 5.
Surprisingly, Toys R Us and Searslist a regular price of as high as $79.99 for this bed and both also have it on sale for $55.97 and $55.99 respectively. Amazon even has it for $162.26!
Plus, Walmart also offers absolutely free shipping!