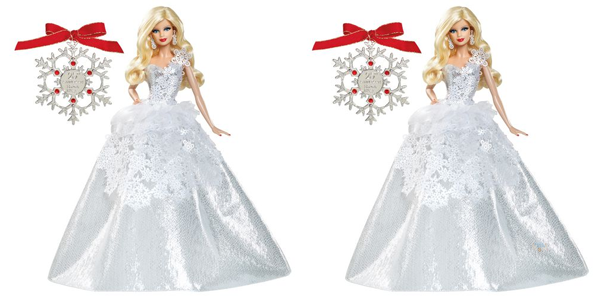 If your daughter is a fan of Barbie, or if you're a collector of this world-famous dolls, then you might want to check out this clearance deal on Walmart's website. You can now purchase the Walmart.ca exclusive 2013 Holiday Barbie Doll for $25 - the regular price of this item is $34.88. You'll also get free shipping with your order!
This special series of Barbie dolls has been around since 1988, and this 25th anniversary entry into the Holiday Barbie line will be a special item for fans and collectors for many years to come! This 2013 Holiday Barbie Doll also comes with a Holiday Barbie 25th Anniversary ornament, which is a nice little bonus. You can learn more about this special Barbie doll by clicking here.
Barbie has been a global sensation for decades, and you'll be hard-pressed to find a person that hasn't heard of Barbie - whether they're a child or an adult. I was more of a GI Joe and WWF wrestling figures kind of guy - they were not dolls, they were action figures! Right? Anyways, I did respect the Barbie franchise.
My mom even kept her first Barbie that she was able to purchase with her own money when she was a young girl, so that always showed me how much of an impact these dolls made on both children and adults. She isn't a Barbie collector by any means (she only has that one Barbie tucked away in a box in her closet), but she'll always keep that doll!
This doll currently sells for $46.99 on Amazon, and that's not even the Walmart.ca exclusive version! It's also $49.99 at Sears. I've listed a brief review of this 2013 Holiday Barbie Doll from a satisfied WalMart customer below:
I bought this for my niece but she thinks Santa is sending it as she asked him for her, as she does evey year and I get it every year. 
This won't remain in-stock for very long, so get this 2013 Holiday Barbie while you can! Happy hunting, Bargainmoosers!
(Expiry: Unknown)