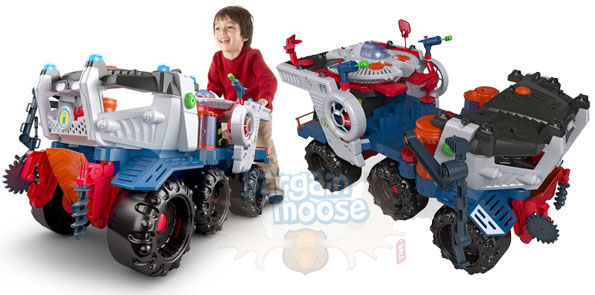 Want a super awesome toy at a fraction of its usual cost? Then quickly grab the Supernova battle rover. Originally priced as high as $130, it's now on sale for just $30 -- that's 77% off!
This super cool battle rover is a 2-in-1 toy as it's a playset/vehicle with a removable space shuttle. It has 19 lights and over 200 unique sound effects -- wow!
There's no set word on when this deal will expire but at this price, it will most likely go out of stock very soon, so if you want it, better get on it quick! My baby just turned one but I have to admit that I'm very tempted to get it for her anyways just because of the big price drop. When I told my hubby about this crazy discount, the first thing he told me was: "she has enough toys". True but it would be great to bust out when she's old enough for it, which is as of 3 years old! :P
Walmart's description specifically outlines the gender of this toy as being for boys but personally, I don't pay any attention to labels like these as I would much prefer to have my child play with a wide spectrum of toys instead of just pink girly ones all the time, but to each their own!
Since shipping is only free on orders over $50 at Walmart, you would need to either add a couple of filler items or you could pick it up for free at either your local Canada Post or at one of Walmart's Grab & Go locations. You can get all of these details for these at checkout.
Three months ago, a reviewer posted this comment about this toy:
I was able to purchase this for my son when it was on sale. He has had hours of fun with it so far!
At the time, it was actually on sale for $64, so the discount on it now is even better. I doubt it will go down any lower than this but you never know. I was also surprised to discover that this toy is significantly more expensive everywhere else as well:
(Expiry: Unknown)