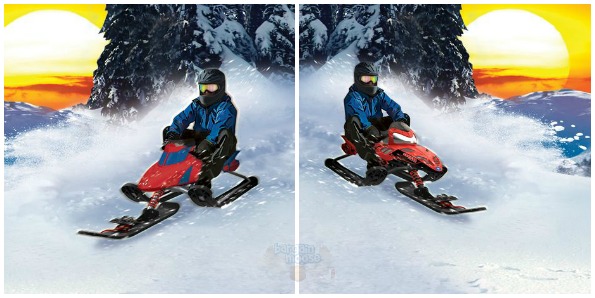 The coolest kid's winter toys are on sale right now at Walmart Canada. The Outer Edge Snow Moto has been discounted from $88 down to $68 with free shipping. The Snow Moto comes in two different designs: Spider Man and Snow Dragon Red.
These machines are ready to shred some snow! The snow moto has three skis for stability. Enjoy front flex suspension for a compare comfortable ride and an adjustable seat to handle kids of all sizes. The snow moto is designed for kids around the age of 9 to 12.
Your child's new ride features pro grip steering and full functioning brakes so they can stop at the bottom of the hill. There is a tow rope docking station, which is very useful for towing a toboggan behind.
Trying to find a good price comparison proved near impossible. However, I did find the Spider Man Snow Moto priced at $95.99 on Sears Canada. In the USA, I found the yellow version for $144.15 excluding tax, duty, and shipping. This was at Overstock. Given Sears Canada's price for the unit, I figured $68 with free shipping was a very good deal.
I really like this kind of snow toy, and I would have given a lot to have one of these as a kid. Depending on the physical maturity of your children, you may be able to give this to one a bit younger than nine. I think I could have handled this when I was 8 or so.
One reviewer said:
Excellent Product, my kids love them and they seem like they will last a very long time.
I think the Spider-Man graphics will be a favourite among kids, but I prefer the Dragon model. Black and red look so awesome together and I prefer the shape of the dragon front. However, if you have a little Spidy fan, the blue and red Spider Man unit is the way to go.
Even though these are fairly large toys, Walmart Canada will still ship them to your home for free. Pick one up before they go out of stock! Also, if you own one of these units and care to comment, then please let us know what you think of your Snow Moto!
(Expiry: Unknown)