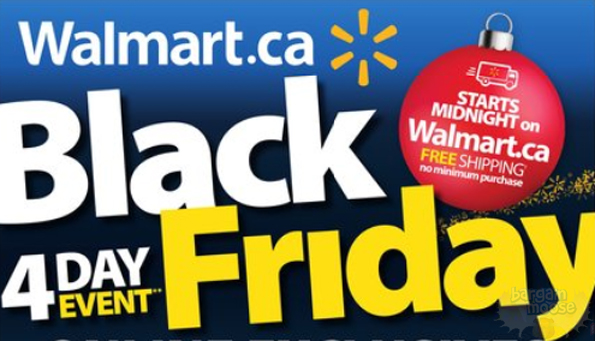 Over on Walmart.ca, they've got their Black Friday flyers online now! They have two versions, an in-store one and an online flyer. These flyers run from the 28th November to the 1st December 2014, so you can have a look right now and see what you are going to be buying in their sales!
As we mainly focus on the online side of things here on Bargainmoose, I'm going to focus on the online flyer. Of course there are a few of you who will be braving the in-store sales, so you can use the flyers above to prepare your shopping plan.
Now, back to the online deals. These are due to commence at midnight on Friday the 28th November 2014. If you really want to make sure that you get the deals you want, you're going to have to be online at midnight to try and crash the Walmart.ca website!
The very top headliner deal on their flyer is this Samsung 55" Smart UHD TV (55HU7000FXZC). It's currently listed as "out of stock online" so I am thinking that they're saving the stock until Friday, so they can sell some units at the reduced pricing. It's currently listed at $1698 and on Friday, they will be selling this Samsung TV for $1398 with free shipping (I assume).
Other Televisions:
Other Items:
Remember, all of the above come with free shippingto most areas in Canada (excludes some remote locations).
I guess I am most excited about the LG 49" TV at a hidden price – I hope it's a deep discount.
NOTE: when these deals go live on the Walmart site, be sure to price compare with other Canadian online retailers whose Black Friday sales prices may also be in effect.
Full in-store flyer:
[gallery columns="4" link="file" ids="197015,197016,197017,197018,197019,197020,197021,197022,197023"]
Full online flyer:
[gallery columns="2" link="file" ids="197012,197013"]
(Expiry: 1st December 2014)