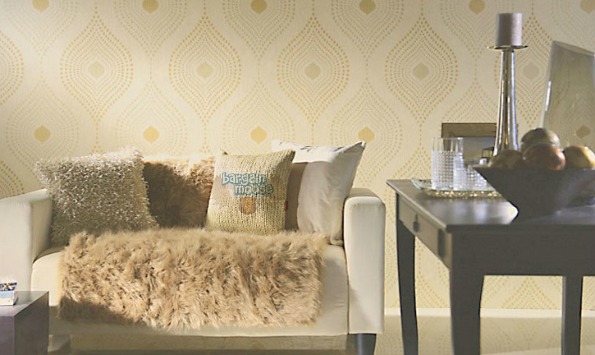 Do you flip through style magazines dreaming of the home you wish you could have but think you can't afford it? You really don't know what a little bit of wallpaper can do to a room. Gone are the days of every wall being covered in paper and in are the days of having feature walls with beautiful and stylish paper. Walls Republic is a Canadian wall coverings company that has been around for 17 years, but we are just getting around to telling you about them now. They've got beautiful wallpaper, coverings and murals that have been featured in those magazines that I spoke of. On top of that, they've got a section with up to 80% off some styles and on top of that, you can use our exclusive coupon code to get another 10% off your order.
Click here to shop @ Wallsrepublic.com now
Coupon Code: BARGAINMOOSE
Discount: 10% off
Expiry: Never?
A few years ago, I decorated my home office and added one wall of this gorgeous wallpaper for which I paid about $350 for. The results were truly stunning, although I wish I could have spent a little bit less. But, once I sold that house, I actually missed that room that I had put together so well and my gorgeous wallpaper that I had fawned over daily.
The good news for me is that I can find another equally gorgeous wallpaper to decorate my new home office in the future and now that I know about Walls Republic, I can get it at quite the discount.
My wallpaper was very similar to this twist vanilla, which is a very light way to make a wall stand out without having it overtake the room. This paper is a hot deal, with a regular price of $219, and on sale for $99 and comes down to $89.10 with coupon code!
While all prices are in US funds, Walls Republic does ship from Canada, for a flat rate of $10. While you might be used to free shipping or shipping thresholds, there aren't many stores like this online and I think with the deals you are getting the flat rate is still worth it. It is much easier to do this than pick through a bargain bin of wallpaper on sale at Home Depot or your local paint store. Here, you get what you want, you get the very discounted price and it comes right to your home.
If you aren't ready to order and want to see how the wallpaper will look on your wall, you can order up to DIY projects if you'd like!