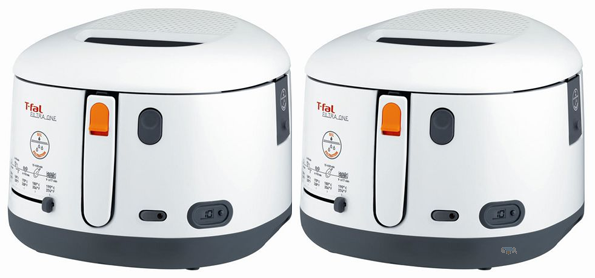 Are you craving some delicious deep-fried food? Well don't fret, because WalMart is currently having a great deal on their T-Fal Filtra ONE Deep Fryer! You can now purchase this T-Fal Filtra ONE Deep Fryer for $44.97 - WalMart was previously selling this deep fryer for $58.77. Canadian Tire is currently selling the stainless steel version of this deep fryer for $139.99, and it's $118.26 on Amazon. You'll also get free shipping with your purchase!
If you're looking for a deep fryer, then you should consider picking up this T-Fal Filtra ONE Deep Fryer from WalMart. It can handle up to 2.1L of oil, and it has a food capacity of 1.2Kg. This deep fryer's Filtra system allows users to easily remove crumbs, and it also has a convenient fold-up handle.
My girlfriend and I decided to bite the figurative bullet and purchase a deep fryer last year, and we're still happy with our purchase. We may not use it very often, but both of our mouths water with anticipation whenever we decide to bring out the deep fryer for a delicious meal! I especially love using it for breaded chicken nuggets and chicken strips - it just tastes so good!
In fact, writing this article is making me hungry, so I now plan to bring out the deep fryer and make some delicious food sometime next week! Mmmm...
I've included a brief review of this T-Fal Filtra ONE Deep Fryer from a satisfied WalMart customer below:
I ordered this item as it was not available in my local Walmart, but was available online. It arrived quickly and I am very pleased with this product. I would highly recommend this deep fryer to anyone who is in the market for a deep fryer. It is easy to use, good price, and has a new way to filter the oil to remove debris from the oil to make it last a little longer and keep it cleaner.
I hope you all enjoy the rest of your day, Bargainmoosers!
(Expiry: Unknown)