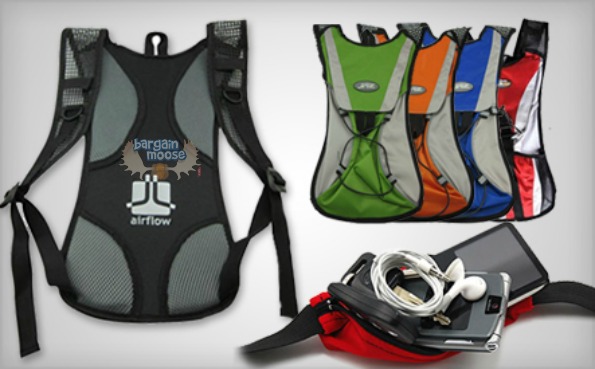 WagJag Canada is selling a unisex sports waistband ($29 value) for $14, a sports hydration pack (a $79 value) for $29 or both for only $39.
I've seen quite a few runners and cyclists with these hydration packs. These are so handy for going long distances where you need water, but don't want anything in your hands. It has a 2L bladder, allowing it to be filled with water or another beverage, although beer might be counteractive. The long extendable straw gives you easy access to your fluids without even having to stop. It also has a secondary compartment to store other items. Choose from one of five colours: green, blue, black, red or orange.
The sports waistband is a small and lightweight belt that you can carry small items in for all your trips, even just around the neighbourhood. It does expand so even your phone can fit inside and the sturdy buckle keeps it on and in place. Choose from one of four colours: green, blue, black or red.
Both of these items are very handy for any kind of exerciser. I despise carrying my phone and keys, even in the little pocket on my running pants.
The product(s) will arrive within three weeks of the end of the deal. Simply buy your WagJag and it automatically ships, with shipping costs included. You can buy as many as you'd like.
(Expiry: 19th June 2013)